Fashion's 'godfather' Karl Lagerfeld apparently hasn't been busy enough designing his namesake line, plus readying Blake Lively for her role as Chanel spokesmodel. He recently lent his design genius for a second time to a limited-edition collection of Coca-Cola Light bottles. Karl Lagerfeld celebrated the collaboration last Thursday at a party in Paris, in the rooftop restaurant of the Centre Pompidou. He was accompanied by doppelgangers dressed in white wigs, sunglasses, and black suits, accessorized by fingerless gloves and holding trays with his limited-edition bottles. The white bottle features a hot pink cap, dots, stars and stripes, and a silhouette of Lagerfeld in black – we noticed that unmistakable ponytail, high collared shirt, black suit and boots.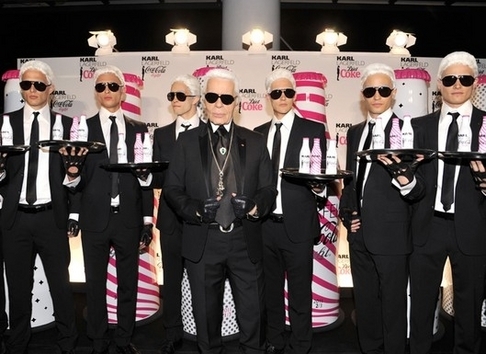 According to WWD, Lagerfeld shot the ad campaign for his limited-edition bottles as well. The ads, which will launch on April 28, in French magazines and billboards, feature top model Coco Rocha and a Lagerfeld fave, Baptiste Giacobini. In the ad, Rocha is drinking her Coca-Cola Light from Lagerfeld's favorite Lalique glass (he told WWD he likes to drink Coca-Cola Lite in a delicate crystal goblet to accentuate the taste), and dressed in his style – a high-collared shirt and black necktie, paired with black shorts and fingerless gloves from his signature collection.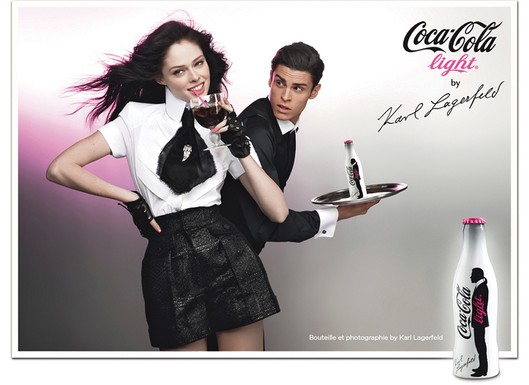 Galeries Lafayette and Colette will get a headstart to sell the limited-edition boxed bottles, for 47 euros/$64, which comes with matching bottle openers.
Photos: WWD & Karl Lagerfeld