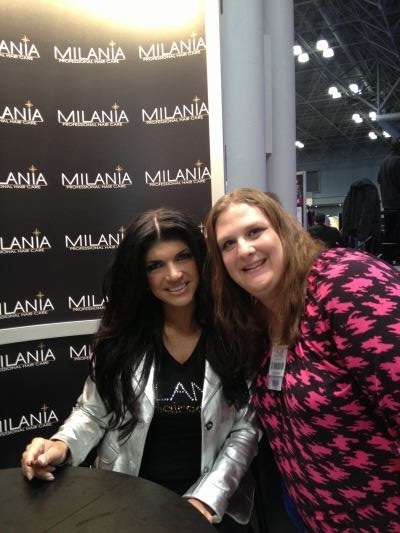 I absolutely love watching The Real Housewives of New Jersey every week. If you're also a fan of the show, then you know that whether she's flipping tables, cooking, or fighting with her brother, Teresa Giudice always has beautiful hair!
I had the pleasure of meeting Teresa and learning more about her Milania Hair Care line while I was at the International Beauty Show a few months ago. In person, Teresa was so friendly and excited to talk about her products for healthy, beautiful hair. The line was developed by Jerel James after many years of working in the hair care industry and seeing the need for nourishing products that work. I purchased several of her Milania hair care products and I have been loving the results I'm getting with my hair.

After washing my hair, I've been using Milania Argan Oil Infusion Serum. Made with a blend of 8 essential oils, this serum locks in moisture and helps repair split ends without leaving hair oily or greasy. I also use the Total Vitamin Leave-In Treatment for amazingly soft, conditioned, healthy, and shiny hair. This product contains a Pure Vitamin Complex full of silk protein, vitamins, and healthy oils to promote strong hair. I've been using both of these products together with wonderful results! If I'm going to be heat styling, I'll also use the Keratin Heat Protector to protect my hair from damage while nourishing with healthy oils and keratin.
Milania hair care products are available at fine salons, or can be ordered online at MilaniaHairCare.com