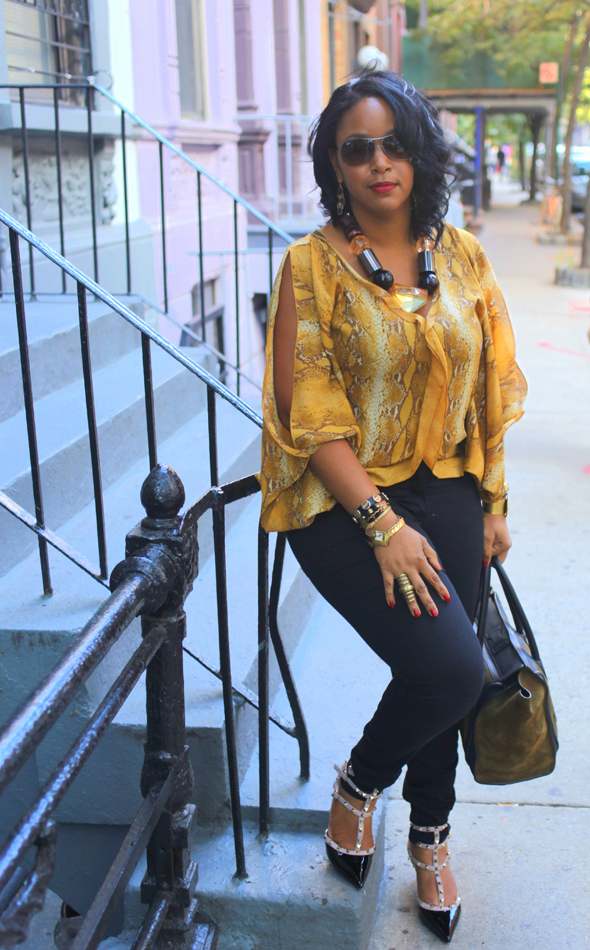 You know your shoes are making a statement when random men on the street stop to compliment them. And I mean the type of men who look like they typically couldn't care less about a pair of women's shoes. I've wanted to buy these for some time now but thought they were a little too trendy and pricey for me. But eventually I came around and I have to say I plan on wearing them until the heels and the studs fall off, and probably even after that! Ok, hopefully that won't happen since they ARE Valentino, but you get what I'm saying. They're simply amazing to look at and comfortable to wear, which is a MUST for my old and easily tired feet. I wore them one day during New York Fashion Week. I had a ton of shows, presentations, lounges and events to attend, and they carried me around comfortably, all day.
The snake print top was a recent find at Editors Closet!
and the color, style and fabric couldn't have been more perfect for this time of year. Even though it was sunny out, there was a slight Fall chill in the air. I carried my fave Fall bag – the Celine suede and Leather Luggage Tote. The Ray-Ban sunglasses I jacked from my hubby – I bought them for his birthday a few years ago and he hardly wears them anymore so they're mine now!
Enjoy!
What I'm Wearing:
Snake print top: Exclusive for Intermix
Pants & chunky resin necklace: H&M
Shoes: Valentino 'Rockstud' Pump
Bag: Celine suede and Leather Luggage Tote
Sunglasses: Ray-Ban
Bracelets: Golshah Agdasi, Joe Fresh, Madewell, Juicy Couture, Stella & Dot (c/o)
Lips: NARS Velvet Matte Lip Pencil, Cruella