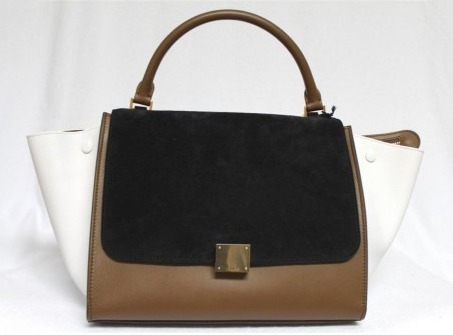 "Once you go Celine, you don't go back" should be the motto for this brand and their smokin' haute handbags. Ever since getting two Celine bags, I really haven't looked anywhere else. The bags are exquisitely constructed, in classic-with-a-twist silhouettes that make handbag lovers sigh with joy when they see them. Seriously.


The Leather Luggage Tote and the Phantom are no doubt haute, but the Celine Trapeze is really what's hot in the streets right now. If you can't find one in your local luxury department store (and you probably can't because these bags fly off the shelves), Portero.com
has a nice selection of pristine and gently used Celine bags. Like this Celine Tricolor Suede & Leather Small Trapeze Luggage Bag
. It comes in a tricolor combo of tan and white leather and black suede and features a gold clasp closure at the bottom of the front flap and has a leather top handle and removable shoulder strap.
Measures 20″ X 9.5″ X 7″ with a 4.5″top handle & 13″strap.
Pristine and unworn, the bag retails for $3,198 at Portero.com
.