Some of my favorite pieces in my jewelry collection are those from Tuleste Market
. Their designer line of antique and flea market-inspired baubles solicit so many comments and questions from random people ("I love your necklace!"; "Where'd you get that?") that I'm always checking to see new pieces that I can add to my collection! Now the sisters behind the brand, Celeste and Satu Greenberg, have extended their vintage-y inspiration to a line of shoes, plus handbags for Fall 2011.
The Spring 2011 collection of shoes is already available for purchase on shopbop and they exude the same vintage vibe as the jewelry. Booties and wooden clogs and wedges have a throwback feel, with a modern twist – their detailed with Tuleste Market jewels. The tuleste market Brooke Rosette Wedge Sandals
, for instance, feature the same gold roses as you'd find in their Antique Rosette Bracelet
.
The handbags will launch this Fall, according to WWD, and will come in six styles. The bags are made of leather and feature Tuleste Market signature accents, like the gold rosettes and rose gold plating. Prices will range from $295 to $495 and they will be sold at Shopbop.com.
Personally, we're excited to see the shoes and cannot wait for the Tuleste Market handbags! What's your favorite Tuleste Market item?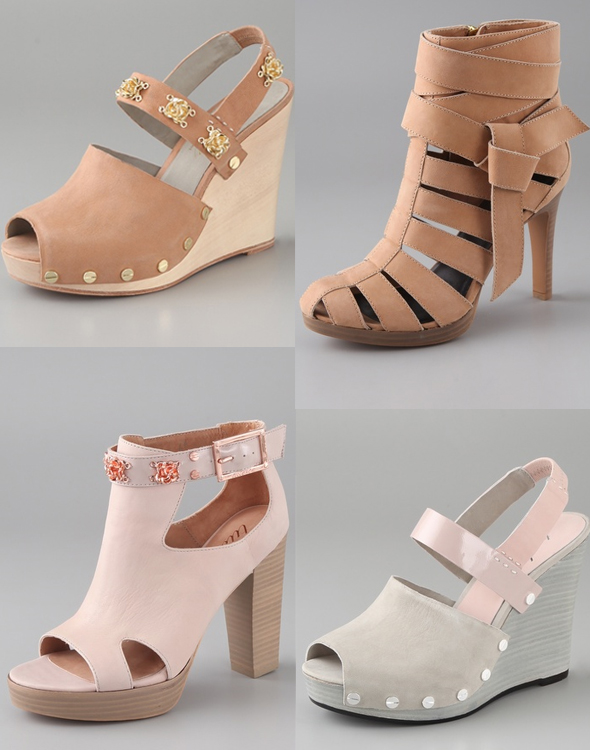 Shoes pictured (clockwise from top left):
tuleste market Brooke Rosette Wedge Sandals
; tuleste market Bouna Fisherman Booties
; tuleste market Dana Clog Wedge Sandals
; tuleste market Sabrina Open Toe Platform Booties
Shop Tuleste Market jewelry and shoes on shopbop.com
.