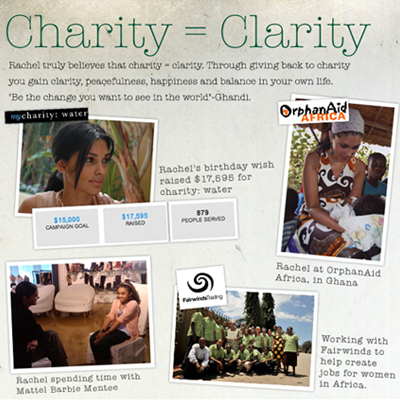 We love Rachel Roy of course, because she's a brilliant designer. But we also love her for her love of all that is good. We met her at her spring 2010 preview event at Macy's and she chatted with us a bit about her support of women's entrepreneurship and empowerment.
Rachel is a huge proponent of social change, constantly working on new ways to improve the lives of others through charity, entrepreneurship, and cultural understanding. For example, instead of celebrating her birthday this year, she asked family, friends and fans to donate to her Charity Water campaign in lieu of gifts. She is also working with OrphanAid, and has also partnered with Fairwinds to fairly employ female artisans in Africa.
It's Rachel Roy's belief that charity = clarity, and in support of this, the RACHEL Rachel Roy team is offering a $1,000 grant to 3 people to help improve the lives of others. Entrants have until May 31 to enter for a chance to win $1,000 to create a "charity" that would essentially improve the lives of those in their lives or community.
In addition to the grant, the entrants will receive a Flip camera to document their plan in action with footage of their works and videos displayed on RachelRoy.com.
A good idea with a social and selfless mission could make a small but profound effect on the lives of others.
For more information on how to enter check out Charity = Clarity on RachelRoy.com.