Last week I was invited to attend a preview of the Rachel Roy Spring 2010 collection at Macy's – Herald Square. The opportunity to meet Rachel was enough for me to be excited about, but on top of that, her friend, singer and jewelry collection co-designer Estelle was scheduled to perform as well. The two gorgeous and talented ladies came on stage and Rachel introduced Estelle, who then performed a set of several songs, including her new hit song 'Freak' and my personal fave – 'American Boy'. Then Rachel met with fans, posing for pictures and signing autographs while models posed in her latest collection.
I chatted with Rachel – who was an absolute sweetheart, by the way – about her fashion line, women entrepreneurs, and accessories. She complimented me on my necklace; I adored her Skull Two Finger Ring, which unfortunately is now sold out!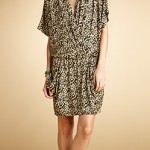 I wore my RACHEL Rachel Roy 24hr Dress for the occasion, and spotted a new version of it for spring – the Mini Painted 24hr Leopard Dress. This has to be one of the most fabulous dresses I've ever owned because the fit is simply amazing. This modal dress hangs and drapes in all the right places, and you can dress it up with heels and jewels, or dress it down with flats. It's extremely comfortable and flattering for any figure, and the leopard print adds a nice touch for the season.
Buy for $99 at RACHEL Rachel Roy online, or at Macy's.
J. McCarthy/Wireimage