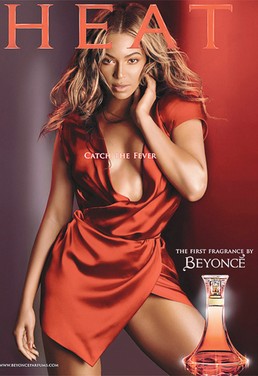 There's no stopping Beyoncé. From music to acting, to fashion and accessories, there's no end to extensions of the Beyoncé brand. And now she's launching her first fragrance – Heat. In an exclusive interview with WWD, Beyoncé commented "I've been working on it for a while now. I was on tour for a year, and I have meet-and-greets with fans. I've never in my life gotten so many compliments. Coty has their own testing, but that was my testing! The fans loved it. They were like, 'I love that, I'm getting that, why isn't it out right now? I need it!"
The inspiration for the name and packaging came from the singer's tours – fire from performances, red and gold are among her favorite colors; thus the antique-style bottle looks like it's on fire. The top of the bottle is edged with a gold band and a cap with the letter 'B', and inscribed on the bottle are the words 'Beyoncé' and 'Heat'. The fragrance has notes of red vanilla orchid, magnolia, neroli and blush peach; a heart of honeysuckle nectar, almond macaroon and crème de musk, with giant sequoia milkwood, tonka bean and amber.
Beyoncé's Heat, licensed by Coty, will be available in three sizes — 1 oz. eau de parfum for $39; 1.7 oz. eau de parfum for $49, and 3.4 oz. eau de parfum for $59. Also for sale will be a 6.8-oz. Gold Sparkling Body Lotion for $24. The complete collection will be available this February in the U.S. at approximately 2,000 department and specialty stores, (including Macy's where Bey will make a personal appearance to Herald Square on Feb. 3.), as well as in Canada and Latin America.
Are you ready to "Catch the Fever"?
Source: WWD