Fashion Week is mainly about seeing the new collections, but part of the fun of the week is all of the celebrity sightings! At Kohl's Rock & Republic, while waiting for the show to begin, I spied Molly Sims, Ashlee Simpson, Kelly Killoren Bensimon, Zoe Saldana(!),Penn Badgley and Ed Westwick, mingling in the crowd. As Ed was walking by, I asked if he'd pose for a picture with me and he graciously obliged!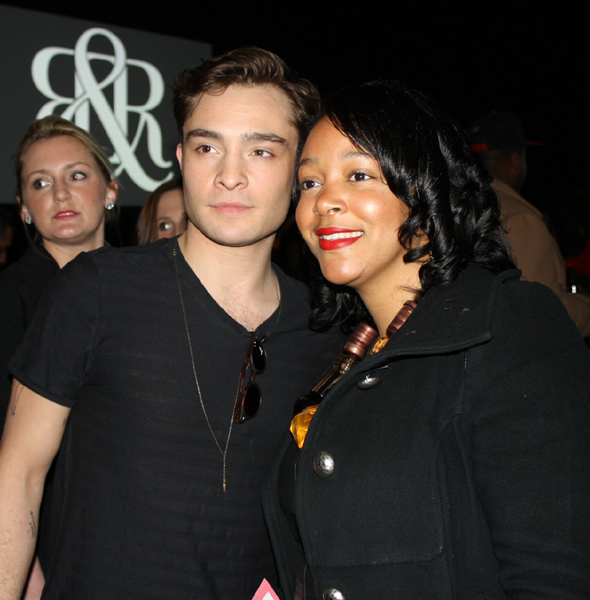 After celeb watching, we headed into the show, and as I mentioned before, the looks were all ones that I'd see myself wearing on a regular basis. As the show went on, I found myself mentally shopping for all the dresses, jeans, tops, and shorts that I wanted from the collection, which was all casual, but with a rocker-chic edge. The shoes were cute too – wedges and studded platforms – a must in any girl's wardrobe. And of course, there was plenty for the guys too, including classic denim, T-shirts, sweaters and shoes.
On my way out of the show, I reverted back to my celeb spotting mode! I spied supermodel and Project Accessory host
Molly Sims, who stopped to compliment me on my necklace! I also chatted briefly with Zoe Saldana who was also super sweet. Heading out, I was treated to a gift bag full of Kohl's Rock & Republic gear. Check back soon to see how I rock it!
Want to see the show for yourself? Watch below, and let us know your favorite looks!

Disclosure: Kohl's provided compensation to me as an incentive to blog about the Rock & Republic launch event. The opinions expressed herein are those of this author, and they have not been reviewed or approved by Kohl's in advance.