UPDATE (8/7/09): The winner is Jenny S. from Kitchener, ON. Congrats to Jenny and thanks to all who entered! Stay tuned to What's Haute Magazine for more awesome contests and giveaways!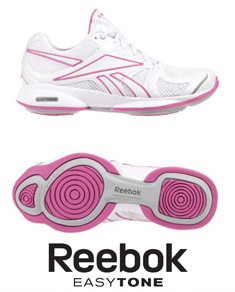 When it comes to footwear, there's nothing we love better than a stiletto for long and sexy legs. But to help get those shapely legs, we all need a good workout plan and an even better shoe.
Say hello to the Reebok EasyTone. This stylish sneaker looks like your basic walking shoe but inside there's a lot more. The EasyTone contains unique balance pods built in under the heel and forefoot of the shoes that help tone key leg and glute muscles to encourage toning. The shoes have actually been proven to increase toning of the gluteus maximus by 28%, and hamstring and calf muscles by 11%. A firmer butt, thighs and calves? I'm there!
The EasyTone shoes are designed to create a natural instability which ironically makes them more fun to walk in. The shoes are super cushiony – it truly feels like you're walking on air. Testing proved the EasyTone to be up to three times softer than conventional foam-based shoes. And for a girl like me who is no fan of the gym, I have to admit that since receiving these shoes, I've been a lot more active. From walking and shopping to running to cardio and Tae-Bo, I've been putting my EasyTone's to the test. The EasyTone helps you "take the gym with you"!
Wanna know how they measure up? Check back next week to hear my progress. And you'll have the chance to win a pair of EasyTone sneakers from Reebok and What's Haute Magazine!
Click here to buy the Reebok EasyTone shoe