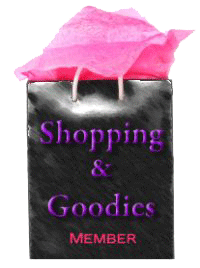 A Few Goody Gumdrops loves the goddess-like look from Nicole Ritchie's House of Harlow Collection.
Handbag du Jour thinks the Christian Louboutin Sculptural Satin Clutch is truly a piece of art!
Princess Dominique Dishes Fashion predicts it'll get furry this Fall with Gigi Favela.
Raging Rouge gets a little romance in her life with MAC Rose Romance.
Shopping and Info loves the Chanel nautical stripe worn by Claudia Schiffer and Sienna Miller.
SomeoneSpoilMe.com's entire Summer Fashion & Summer sales – the little black dress
TheFind Blog is mad about Erickson Beamon's Turkish delight jewelry collection, it's completely decadent and will look gorgeous with our favorite new T-bags maxi dress and metallic summer sandals.
Unfunded gives the inside scoop on Qi's new cashmere loungewear line – mmmm comfy.
What's Haute Magazine features the dress Angelina Jolie wanted – the Mal Sirrah "One Dress".
The Fashionable Housewife has the scoop on the Donna Karen Panties & Shapewear that was on Monday's Oprah with Stacy London.
Being High Maintenance, not Bitchy dishes on the most amazing night cream ever!! Plus enter to win a free facial cream from Perricone MD!
Couture In The City Summer is looking hotter than ever with bright looks from Reebok.
Fashion Fille raided the awesome Shop Ruche and found some beautiful items being sold! She also has a FF exclusive coupon code for a great discount– making the already reasonably priced clothing even more affordable!
Quinta Trends shows Calzados Ruiz, a beautiful Peruvian shoes.
Style Eyes can't wait to get a classic timeless and versatile piece in Summer sales – the little black dress
The Bare Skinny shows you why color is important for your outfit through Photoshop