What would you do if you got a call from Angelina Jolie who wanted to puurchase one of your fabulous designs? Would you think it was a prank call? Well that's exactly what happened to designer Malcolm Harris, of Mal Sirrah, Inc. (Sirrah is Mr. Harris's last name spelled in reverse as well as his "alter ego").
Page Six reports that he hung up on the actress/Goodwill ambassador not once, but twice, thinking it was a prankster. Turns out it was actually Jolie calling to buy three of his "One-Dress" for an upcoming event. (She convinced him after explaining they were both participating in World Refugee Day on Saturday.)
Sirrah says that his "One-Dress" was "collectively designed and created by over 1000 women from across the globe via online social networks such as Facebook, Myspace, ASmallWorld, Twitter, etc. Over the course of eighteen months women were asked to share information about their lifestyle, dreams and desires as relates to one simple – but truly important piece of clothing – the DRESS. By sharing their likes and dislikes in fabrics, colors, necklines, silhouettes, seasons, etc. the "One-Dress" was conceived, incubated and now released into the universe. "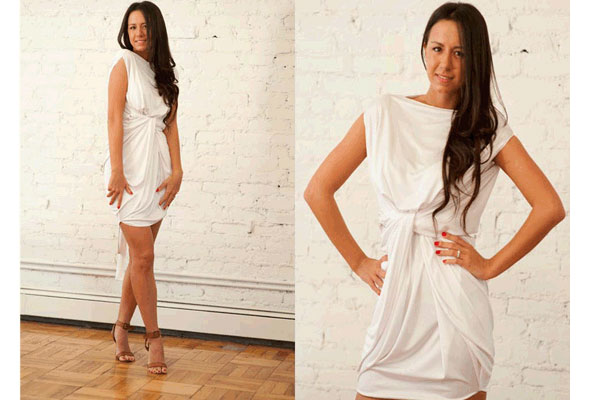 The dazzlingly draped dress is made of 100% silk jersey and comes in black, cobalt blue, magenta and white and can be personally customized a variety of ways. The price is $225.
Sirrah follows in Jolie's footsteps as a portion of all proceeds of the dress sales will go to the following organizations and charities: Womankind Worldwide and KIVA.org. Jolie bought the three knowing that some of the proceeds go to the UN's refugee effort.
Sirrah is also a co-founder of the nonprofit organization Designers for Darfur. Co-chaired by model/heiress Lydia Hearst (Hearst Corporation), Designers for Darfur was founded in 2006 and raises funds and awareness for the Save Darfur Coalition, an organization devoted to supporting people in the war ravaged African country.