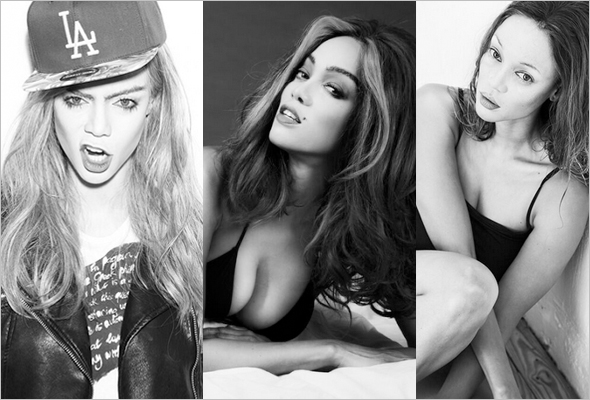 In a new exhibit called "Tyra Banks Presents: 15", the supermodel and TV personality transforms herself into 15 famous supermodels, including Cara Delevingne, Kate Moss, Iman, Karlie Kloss, Cindy Crawford and more. And in the stunning black and white images, she's in whiteface, which has angered some. The photos were shot by photographer Udo Spreitzenbarth and styled by Ty-Ron Mayes. The final photos are unmanipulated, raw and unretouched images, featuring each "model's" signature characteristics, like Cindy Crawford's mole.
Tyra revealed all the details over the weekend when she took to Twitter to announce the photo project that she says she's been working on for a year, and encouraged fans to check out the exhibition, which launched during New York Fashion Week: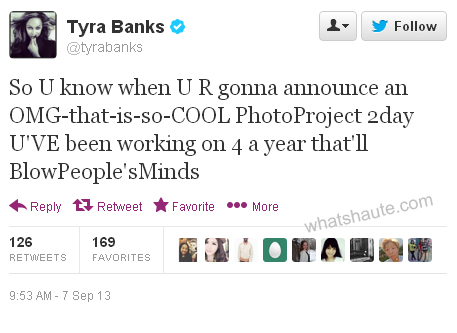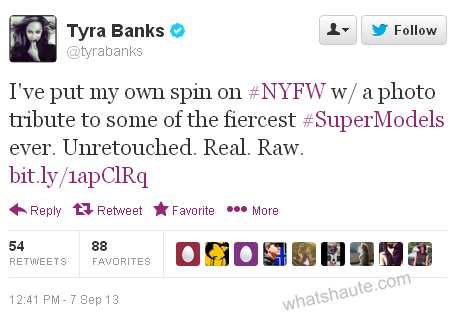 She also revealed some behind-the-scenes looks at her dressed as the famous supermodels: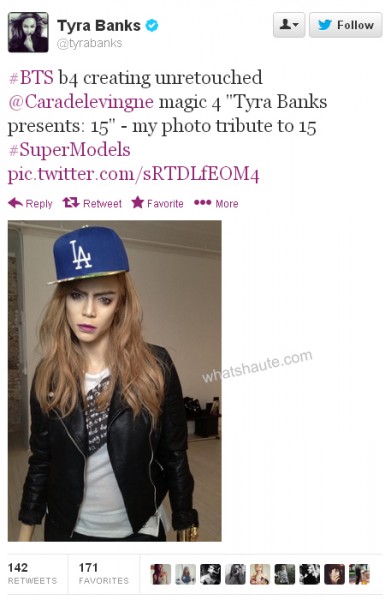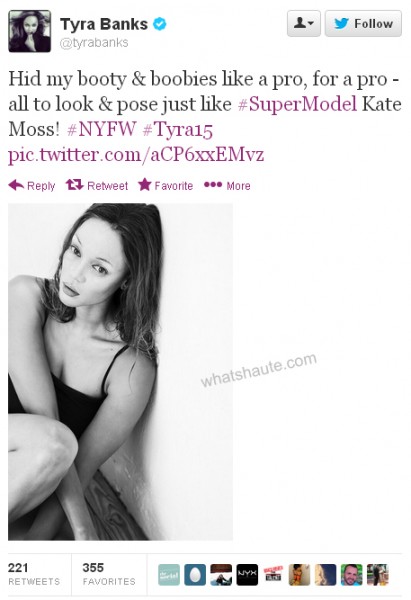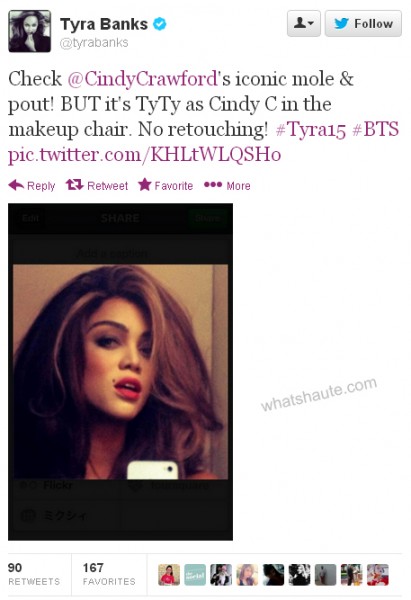 Here's more about the exhibition:
"When Spreitzenbarth and Mayes approached Banks in 2012 about working on an art project together, Banks shared with them her vision of 15. The series then became a reality through artist collaboration with hairstylist Sher Rae Tucker–a protégé of the legendary Oribe, and Emmy award-winning make-up artist Valente Frazier.

In the age of pixilated veils, there is no digital manipulation to the imagery. 15 is Tyra Banks in raw, un-retouched images: the photography, styling, and transformative hair and make-up, along with Banks' extraordinary ability to emulate each character, takes the notion of "black and white" beyond the portrayed models' varying ethnicity and a description of the photographs."

… "Named for the number of the iconic women portrayed, and the age at which Tyra began her modeling career, 15 includes interpretive images of Banks personifying the supermodels: Cindy Crawford, Linda Evangelista, Lauren Hutton, Jerry Hall, Iman, Kate Moss, Twiggy, Brooke Shields, Claudia Schiffer, Carmen Dell'Orefice and Grace Jones. Banks also portrays the new wave of talent that has resurrected the genre: Kate Upton, Karlie Kloss and Cara Delevingne. Rounding out the 15, an adult Tyra emulates herself at 15 years old."
With the generous support of Chantelle and VeeV, Tyra Banks Presents: 15 opened on September 9, 2013, with a VIP reception from 7-8pm followed by a general reception from 8-10pm at Jack Studios, 601 W 26 St. (12 FL), New York City.
Tyra Banks Presents: 15 runs from September 9-November 9, 2013.