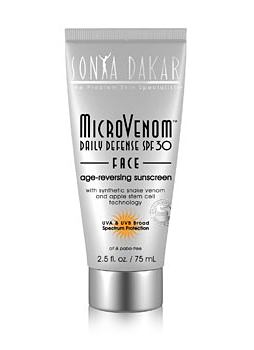 We are officially heading into summer and one thing I want to make sure I do more frequently is apply sunscreen to my face. We all know we should wear it routinely, but often times the thought of white, streaky, hard-to-blend sunscreen is a total turn-off. Well, fear not because Sonya Dakar Skin Care has developed an anti-aging sunscreen that goes on like a moisturizer. It's like skin care and sunscreen in one. It's genius!
At the International Beauty Show in April, one of the skin care companies I was most impressed with was Sonya Dakar. I had the pleasure of sitting down and discussing the skin care line with owner Nate Dakar. Sold exclusively at Barney's New York and at select spas, Sonya Dakar utilizes the latest technology to provide skin care that really works. I recently read about Gwyneth Paltrow's love for this brand and the famous 'snake venom' facials.
Nate told me all about their newest product, which was launching that week: Micro Venom Daily Defense SPF 30. It is a revolutionary product which combines a facial sunscreen with anti-aging skin care. Synthetic snake venom (synake) temporarily halts muscle contractions, thereby preventing wrinkles. The product also contains Apple Stem Cell Technology to help fight the signs of aging. Lavender and tangerine oils add a light, fresh scent as well. You will not feel like you are applying SPF, but a luxury skin care product. Adding it to your daily routine will ensure that you get your daily dose of sunscreen while still pampering your skin.
This lotion is amazing and I have been using it every day since it launched. Visit Sonya Dakar's website to purchase Micro Venom Daily Defense SPF 30!