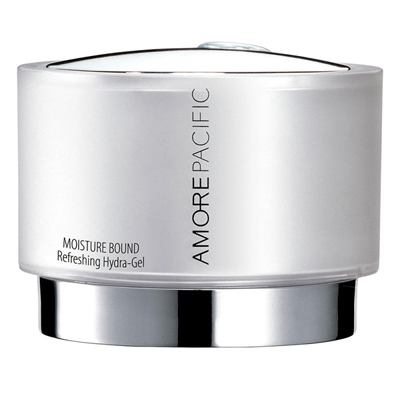 I have been using a sample kit of Amore Pacific's Moisture Bound Collection, and this luxe trio of products has been really hydrating and I've noticed a decrease in fine lines and dark under eye circles. If you are looking for a nice moisturizing cream to add to your skin care regimen, Amore Pacific would be a great addition. This company has its foundation in Korea, with a strong emphasis on skin care made with potent green tea as well as other Asian botanicals. It was the first company to stabilize and use EGCG, a very powerful antioxidant.


After cleansing my face, the first product I used was the Amore Pacific Moisture Bound Rejuvenating Serum, which is oil-free, lightweight and easily absorbed. This serum targets fine lines and wrinkles, helping to restore youth to the skin. The serum was very silky and made my skin very smooth. I then layered the Moisture Bound Rejuvenating Creme on top of the serum. This creme, infused with bamboo sap, has a soft-as-silk texture and absorbs into the skin amazingly well. It works to stop the signs of aging, as well as maintain hydration. Finally, I used the Moisture Bound Rejuvenating Eye Gel under my eyes. I tend to have dark circles and I felt this gel was lightweight, hydrating and immediately gave me a more rested appearance. It also absorbs well, and I love the gel formula. It was calming and it's formulated to help skin's own production of antioxidants as well as improve circulation.
Amore Pacific's Moisture Bound line is a very nourishing product line that will give you wonderful hydration and smooth skin. It is on the pricier side, but you do not need to use a lot to achieve good results. On their website, they have an online skin consultation to help you choose the right products. Amore Pacific is also available at fine department stores like Nordstrom.