Ramona Singer 5.85ct Emerald-Color Quartz and White Topaz Sterling Silver Ring
I am a huge fan of Ramona Singer jewelry for HSN. With each new collection I find pieces that I love, that work well together, and are made with exquisite details. I was happy to speak to Ramona this week and get the scoop on her latest jewelry collection for HSN, as well as some dish on Season 5 of The Real Housewives of New York, which just wrapped filming.

Ramona Singer Multigemstone and Diamond Sterling Silver Earrings
For Ramona's third anniversary with HSN, she brings a collection on which she worked extra hard, creating pieces that emulate one-of-a-kind art deco estate jewelry. This collection features gorgeous black onyx paired with citrine and white topaz, inspired by the vivid, black and bold art of Etro. Black onyx is said to keep negative energy away and bring the wearer good luck. Family also was a huge inspiration for this collection. Ramona designed a gorgeous emerald doublet ring based on a ring she received from her mother-in-law. Each of the pieces is designed to work together so whether you are a first time shopper of her jewelry, or are building your estate collection, you should stock up on a few!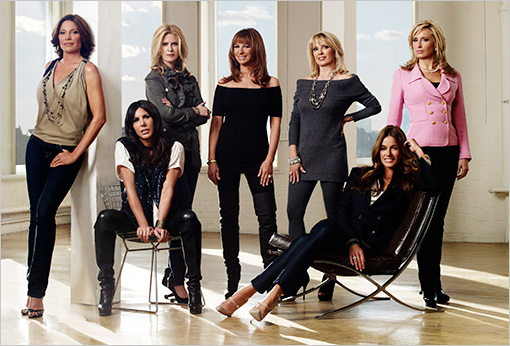 Since the new season of The Real Housewives of New York recently finished taping and is scheduled to air this spring/summer, I couldn't help but ask Ramona what we can expect next season. She shared that the ladies go on not one, not two, but three trips, visiting London, South Beach, and St. Barths. And in case you haven't already heard, Jill Zarin, Alex McCord, and Kelly Bensimon aren't returning but there are three new housewives. So, does everyone get along? Ramona says that the new housewives add new dynamics which lead to fun times, as well as crazy times. And you can expect drama, because as Ramona puts it, "There's always drama; it's human nature!" While she said it was bittersweet to see some of the ladies that she started on the show with depart, this new season is uncharted territory and it sounds so exciting I can't wait to watch!

Ramona Singer Multigemstone and Diamond Sterling Silver Ring
You can catch Ramona Singer's 3rd Anniversary Jewelry Show on HSN on Wednesday, March 14, from 5-7pm ET and visit HSN.com
 to shop the entire collection. And tune in to Bravo for Season 5 of The Real Housewives of New York to see what Ramona and the other housewives are up to.
Click here to shop HSN Jewelry
.