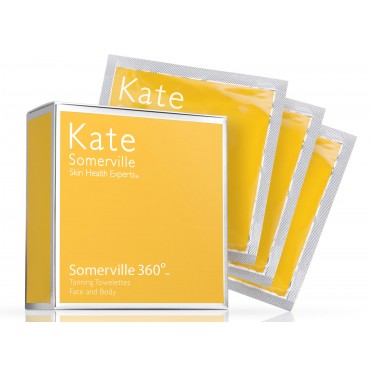 With cooler weather on the way, I was looking for a little 'pick-me-up' as I transitioned my makeup routine from summer to fall. I picked up a box of Kate Somerville 'Somerville360' Tanning Towelettes
and gave them a try before heading out to a party. The towelette was very easy to apply and while I recommend wearing a glove, the excess tanner did wash off very easily.
Using one towelette for my face and body, I got a nice light tan and healthy glow, despite being naturally fair-skinned. The smell was minimal and the best part is that I didn't experience any staining or streaking. My tan lasted about a week but if you want a darker result, you can layer using additional towelettes. The formula is infused with tea tree oil, vitamin C & E and cucumber extract, and free of parabens and synthetic dyes, and reacts with your skin to slowly darken the tan.
Each towelette is individually wrapped, so they can travel with you easily – without the mess! If you are looking for a very natural, healthy glow this fall and winter, you'll love these!
Grab a box of these Kate Somerville 'Somerville360' Tanning Towelettes
for $48 at Nordstrom.com.