Like most young girls, I always loved playing dress up in my mom's closet. She had tons of fabulous shoes and clothes that I would get lost in for hours. Fast forward many years later and I still love playing dress up – mostly, in my own closet. So when I was invited to a "Dress Up With The Outnet" blogger and editor photo shoot, I couldn't resist!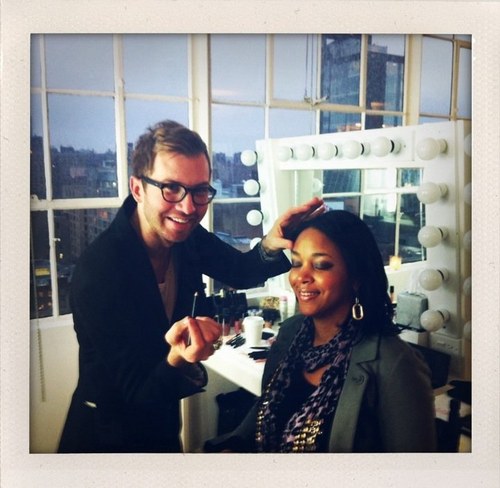 I showed up at Jack Studios, which looked like a dream come true! There were racks and racks of clothes from theOutnet
, plus endless designer shoes, and a table full of jewelry and handbags. I couldn't wait to try it all on, but first I was whisked off to hair and makeup! The super talented and fabulously funny celebrity makeup artist Joe Hubrich 'beat' my face. He asked if I wanted to go all out (I did) so he used Le Metier de Beaute makeup to take my face to the next level. He gave me a fierce smoky eye with a sheer pink lip which worked well with both of my looks. Thanks to a rainy day that day, by the time I arrived at the studio, my hair was a miserable mess but, Mahogany Grace, a stylist at the John Barrett Salon at Bergdorf Goodman, whipped it back into shape!


Then it was time to check out the merchandise, get dressed and get photographed! As an avid shopper of The Outnet, I recognized many of the items; plus I'd already sent over a list of my favorite looks. My first look consisted of a Michael Kors cashmere-blend turtleneck sweater dress in neon-chartreuse. Initially I wanted to wear it with an olive green leather jacket, but then spotted an electric blue Stella McCartney blazer and couldn't pass up the chance to rock the colorblock look. I accessorized with the equally electric Halston Henry small python clutch, Erickson Beamon chandelier earrings and got to rock the stilettos I've been shoe stalking for a while – the Jimmy Choo Camila braided sandals. I got dressed and world-reknowned fashion photographer Paul James Hay started the fun photoshoot.


My second look mixed a little bit of pretty with a little bit of punk. I donned a pink Moschino crinkled silk-blend dress and paired it with some edgy accessories to toughen up the look. I accessorized the dress with an Elizabeth and James fringe necklace plus a studded belt to add some edge, and a silver Alexander McQueen Squeeze It metal-effect leather clutch with sky-high Camilla Skovgaard Saw suede mules.


The shoot was amazing! It was fun to play model for a day and get to touch and feel the clothes, shoes and accessories I'm always browsing online. The Outnet is one of my daily shopping destinations and I visit at least once a day, because you never know what you might find on a daily basis. I secretly wanted to whip out my credit card right there to purchase everything! But I restrained myself.


Do you like my looks? If so, you can shop the items I wore (plus other similar items) at the What's Haute shop on The Outnet!
Photos: Paul James Hay