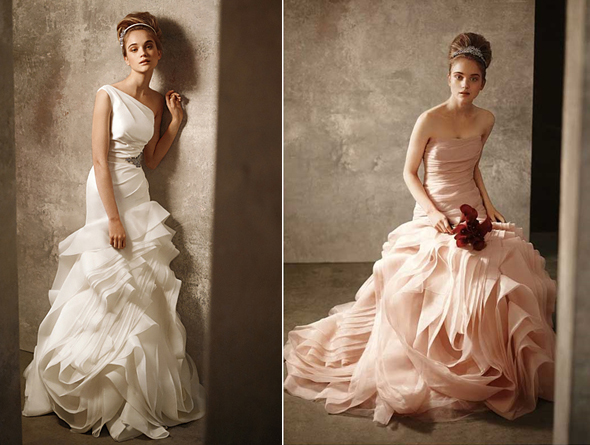 When you hear the name Vera Wang, wedding dresses inevitably come to mind. She has been making gorgeous gowns for years, but the prices (with the exception of stalking bridal sample sales) have kept many a bride from living the Vera Wang dress dream. Her recent partnership with David's Bridal puts an end to wistful gown wanting, and makes buying a Vera Wang original a reality for the bride-to-be! And don't think that because they are lower-priced, they are any less gorge. These stunning gowns make me want to say "I do" all over again!
Vera's exclusive collection for David's Bridal, called White by Vera Wang consists of 12-styles of beautifully-detailed, romantic yet whimsical gowns plus accessories.
At launch, the gowns will come in sizes ranging from 0 -14 so all brides-to-be can buy one of these beauties! The Fall 2011 collection will expand to offer additional bridal gown sizes 16 -26 in select styles, plus new bridal gown styles, bridesmaid dresses and shoes. Prices range from $600 and $1400. The dresses come soft white, ivory, champagne and blush pink lace, tulle, taffeta, satin, organza, chiffon, and charmeuse fabrics.
Vera Wang stated: "I'm excited to partner with David's Bridal as the exclusive retailer of the White by Vera Wang collection. This collection embraces my true design aesthetic and through David's Bridal, I look forward to sharing my creative vision with brides across the country."
Bob Huth, President and CEO of David's Bridal said: "Since announcing our partnership, we have been eager to reveal the White by Vera Wang collection. With two decades in the business, Vera Wang is the name in bridal, and our partnership creates a unique and exciting opportunity to bring the magic of her aesthetic to life for brides who have long dreamt of wearing a Vera Wang wedding gown."
How do you like the White by Vera Wang collection?
Visit the David's Bridal website to view the full White by Vera Wang collection.