This month, we're featuring some of our favorite designers, the people behind our most-loved brands and fashion bloggers, and what's haute on their holiday gift wish lists! We've shopped their sites, bought their products, read their thoughts – now we get inside their heads to find out what they want this holiday season! Abbe Held is the co-founder and Creative Director of Kooba. Abbe and her mother Bonnie launched the line over ten years ago after searching for the perfect bag. They couldn't find what they wanted, went home and designed their own collection and voila – Kooba was born! You've seen Kooba's trendsetting bags (and shoes) on the pages of fashion magazines, on your favorite TV shows, gracing the arms of celebrities and on women all over the world.
Abbe shared her holiday wish list with us! Check out what she wants, below: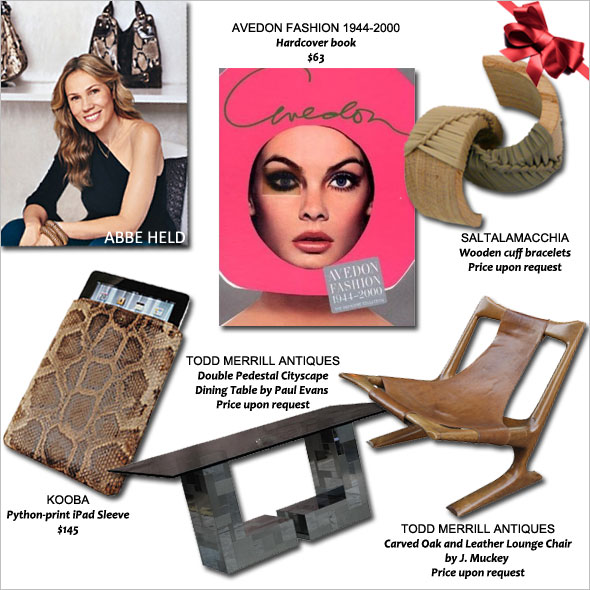 Avedon Fashion 1944-2000 [Hardcover]
by Carol Squiers, Vincent Aletti, Philippe Garner, Willis Hartshorn and Richard Avedon, $63, Amazon – "He is one of the most influential and unique photographers of our time. The book is so beautiful and I'm always trying to add to my book collection at home."
Saltalamacchia wooden cuff bracelet, price upon request, available at Zero + Maria Cornejo boutiques – "I love unique and bold statement jewelry so these bracelets are not to be missed. "
Antique furniture (like this Carved Oak and Leather Lounge Chair by J. Muckey and this Double Pedestal Cityscape Dining Table by Paul Evans), prices upon request, Todd Merrill – "They have the greatest selection of exciting, stylish pieces for everyone. It's my go-to since I'm working on interior decorating my Hampton house and I am always looking for fun pieces to add."
Kooba printed python iPad sleeve with clasp, $145, Kooba.com – "I can't go anywhere without my iPad. The leather is so chic and goes with everything I wear."
About Kooba handbags
The Kooba story isn't so much about Kooba as it is about women. Women who every day search for ways to express their personal style. That's exactly what the team behind Kooba was doing in 1998 when they found themselves shopping in a sea of sameness that was the luxury market. Armed with only a passion, they set about creating a collection of bags for themselves and their friends. Avid vintage shoppers, the team focused on the things that spoke to them: attention to detail, original styles and distinctive textures. Where the individual – not the accessory – makes the statement.
Stand apart, love the difference…Kooba
Get more What's Haute – Follow us on Twitter and 'Like' us on Facebook!