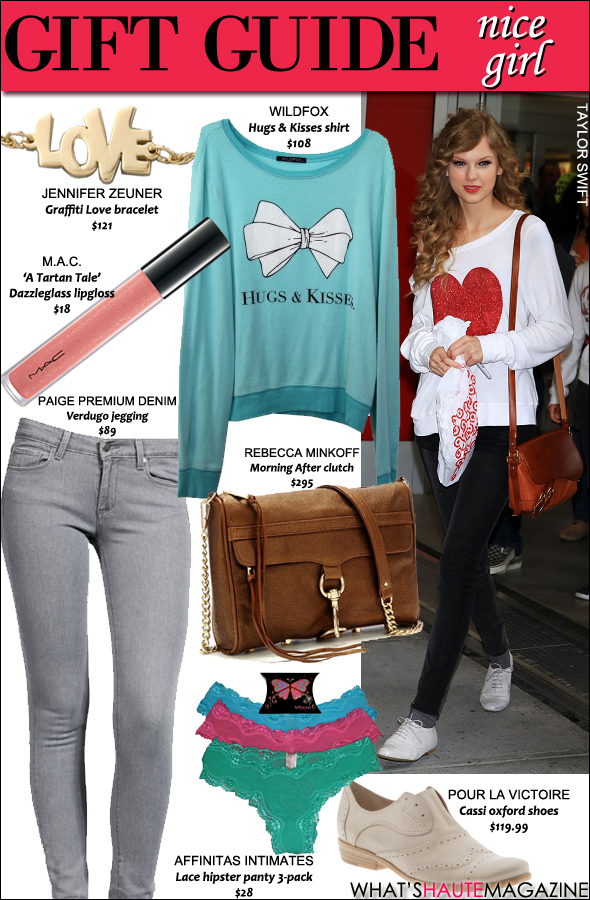 Have you been a Nice Girl this year? Then Santa has got some goodies for you! We all know the Nice Girl – she's sweet, but not too sugary; the friend you confide in who always gives the best advice (no judgment); and the one you go shopping with when you want the best in laid-back casual looks. Our Nice Girl du jour is singer Taylor Swift. She sings sweet songs that she penned herself, always has hair and makeup that's loveable and a carefree casual wardrobe that we wouldn't mind borrowing a few pieces from. Check out some coveted picks for you to buy for that Nice Girl you know, this holiday season.
Jennifer Zeuner Graffiti LOVE Bracelet
, $121
The Nice Girl knows that all you need is love. So she's not afraid to wear the message proudly. This delicate Jennifer Zeuner gold bracelet boasts a strong but simple message. And knowing the nice girl, she'll be gifting all her best buds with one of these too!
M•A•C 'A Tartan Tale' Dazzleglass
, $18
A just-right, perfectly pretty in pink M•A•C lip gloss is all the makeup the Nice Girl needs. Her skin is already glowing, so just a touch of gloss in this sweet shade gives her an au naturel look.
Wildfox Couture Hugs & Kisses Baggy Beach Jumper, $108
The Nice Girl loves a good graphic tee in the summer; and a sweatshirt or jumper in the cooler weather. Wildfox Couture gives voice to the Nice Girls who just want nothing but sweet hugs and kisses!
Rebecca Minkoff Morning After Clutch
, $295
Don't let the name fool you. The Nice Girl would never be caught out on 'the morning after'. But she will sport this lovely little bag on her arm. This Rebecca Minkoff clutch is pure arm candy, and it comes in tons of delicious colors for the Nice Girl to choose from.
Paige Premium Denim Verdugo Jegging in Stratus
, $89
The Nice Girl loves to wear clothes that aren't too baggy and aren't too tight, but fit just right. And these Paige Premium Denim jeggings are MADE to fit.
Affinitas Intimates Lace Hipster Panty 3-Pack, $28
Lacy, pretty underthings are the Nice Girl's little secret. The Affinitas Intimates panty 3-pack gives her a colorful variety of comfy, yet understatedly sexy underwear that she can mix and match at her leisure.
Pour La Victoire Cassi Oxfords
, $119.99
The Nice Girl doesn't mind getting dressed up, but casual and comfortable are her 'thing'. These Pour La Victoire oxford shoes are on-trend and versatile enough to wear with her many pairs of jeans and leggings.