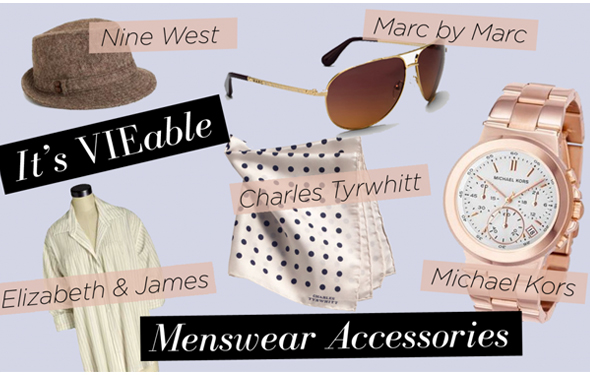 There's something about menswear that has appealed to women for several seasons now. Whether single or taken, the ladies adore the "borrowed from your boyfriend" look and we must say that we do too. We've picked out a few our our absolute favorite menswear-inspired fashion pieces that mix both masculine and feminine details and can be worn for both casual and evening occasions. The key is to choose oversized yet fitted and tailored items like this shirt by Elizabeth and James and statement pieces like this lust-worthy MICHAEL KORS watch in rose gold. This fall, try the classic fedora like this one by Nine West or accessorize with a men's item like this spotted handkerchief from Charles Tyrwhitt. Last but not least, you could never go wrong with a pair of aviators. Our pick? This gold version from Marc by Marc Jacobs.
Elizabeth and James Laurent Shirt
MICHAEL KORS Rose Golden Chronograph Watch
Nine West Hat, Menswear Fedora
Charles Tyrwhitt White and Navy Spot Silk Handkerchief
Marc by Marc Jacobs Aviator Sunglasses in Gold
-From our friends at TheEnvied, the official blog of ToVieFor!
At ToVieFor, you can play-to-win discounts on the hottest and most coveted, in-season, handbags and accessories. Email me for an invite and sign-up today and receive 5 complementary credits to play the game!
Get more What's Haute – Follow us on Twitter and 'Like' us on Facebook!