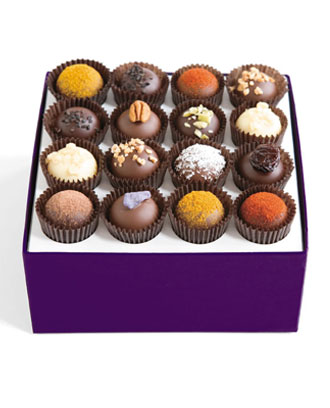 Few things in life are more indulgent than chocolate. And the more gourmet the chocolate, the better. Vosges Haut Chocolat is one of What's Haute's favorite luxury chocolate brands, due to their unique pairings of rich, creamy chocolate with exotic and unexpected ingredients like rare spices, herbs, roots, flowers, fruits, nuts, and bacon!
Our personal favorite Vosges Haut Chocolat holiday gift pick is the La Grande Gift Tower ($96) – a 16 piece selection of exotic haut-chocolats stacked in an elegant tower. It includes an Exotic Truffle Collection, La Parisienne Cocoa, 1/2 lb. Bapchi's Caramel Toffee and two Exotic Caramel 4 piece collections, with complimentary handwritten gift cards tied on top.
Vosges is offering a special holiday blog discount for all Vosges Haut Chocolat, starting today! Just enter the code "BLGF10" at checkout and receive 10% off of your order. Shop Vosges Haut Chocolat today – 'tis the season for sweet indulgences!
Get more What's Haute – Follow us on Twitter and 'Like' us on Facebook!