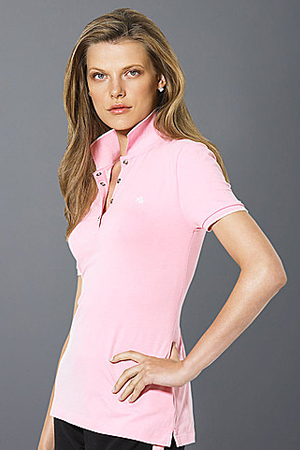 As you know, October is Breast Cancer Awareness & Prevention month, and in celebration of that, Ralph Lauren launched Lauren Pink. Last week I attended an event at Lord & Taylor, celebrating the launch of this limited-edition apparel and home collection. Fellow bloggers, editors and shoppers were treated to pink cocktails and Lauren Pink polo shirts while browsing the collection of products, exclusive to Lord & Taylor, for the month of October only. We also participated in an in-store Ralph Lauren Scavenger Hunt, and each of us who participated received a special Lauren Pink candle, while Lord & Taylor donated $5 to the Pink Pony Fund.
Ten percent of the proceeds from the Lauren Pink collection will go to the Polo Ralph Lauren Foundation's Pink Pony Fund – Ralph Lauren's worldwide initiative in the fight against breast cancer. The Pink Pony Fund supports early diagnosis, education, treatment and research programs and is dedicated to bringing quality patient care to medically underserved communities. Lord & Taylor also donated an additional $5 to the Pink Pony Fund for every lady (and gent) who wore pink to the event and/or checked in at Lord & Taylor Fifth Ave on FourSquare! How's that for philanthropic?
Shop the Lauren Pink collection at Lord & Taylor this October. You can also text PINKPONY to 501501 on your cell phone to automatically donate $10 to the Pink Pony Fund. Message and data rates apply.