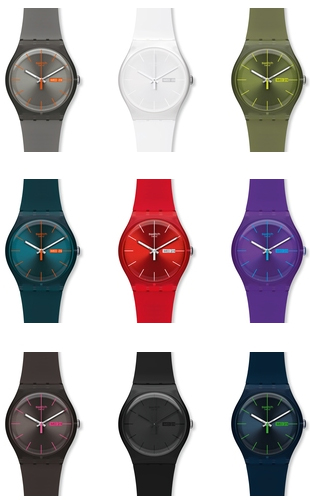 The only watches I wore as a teenager were by Swatch. The brand became popular around the time I was in middle school so as a budding fashionista, I had to have several of them. Printed ones, transparent ones, colorful ones – I had Swatch watches for almost every day of the week. Fast forward many years later, and I'm still a huge fan of Swatch. On Wednesday night I attended the launch party for the Swatch New Gents Collection, which was inspired by the Swatch Gent originals from 1980's but updated with a bigger dial and fresh winter colors. Though the name may sound like it's for men only, like all Swatches, the design is unisex so women can rock these Swatch watches too!
Held at the Plunge Bar penthouse at the Gansevoort Park Avenue hotel, the launch party was nothing short of fabulous. Watches from the new collection were displayed throughout, while drinks flowed and yummy hors d'oeuvres were served. Hot sounds were provided by DJ Mia Moretti and a live violin set by Caitlin Moe. Tons of celebrities were there to celebrate too – I ran into actress Susan Sarandon, rapper Fabolous, pop star Chris Brown, actress Kelly Rutherford, actor Chaske Spencer, supermodels Jessica White and Jessica Stam and old school rapper Kwame! And the party was hosted by none other than Nikki Reed star of the Twilight saga.
Upon exiting, guests were treated with a goody bag complete with a brand new Swatch! I got an olive green version, just in time for wearing and pairing with this season's military trend! Get one of your own Swatch New Gent's watches, available at online at Swatch.com and in Swatch retail stores.