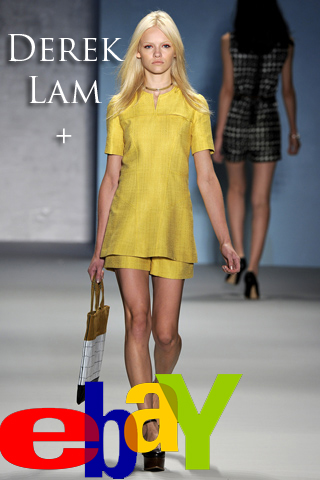 Here's a brilliant use of crowdsourcing that Gap may want to take notice of after its new logo fail. Fashion designer Derek Lam announced today that his 2011 New York Fashion Week ready-to-wear collection will consist of original designs that shoppers can collectively vote for and pick from on eBay.com. The final Derek Lam for eBay Fashion collection of shopper's favorites will then be available for purchase at a fixed, low price, exclusively on eBay during the Spring/Summer 2011 season.
Lam commented: "Having a direct and immediate dialogue with the online audience is what makes fashion exciting and relevant in this moment. eBay's technology offers me a unique and innovative opportunity to reach new and existing customers directly, and to create fashion they desire."
Miriam Lahage, vice president and general manager of eBay Fashion, said: "We are thrilled that a fashion luminary like Derek recognizes the power of eBay as a platform to directly engage style-conscious shoppers worldwide. This collaboration underscores how eBay is leveraging technology to invent new ways to shop fashion and provide access to acclaimed designers at incredible value. Our global reach enables us to expand the velocity of trade in the fashion ecosystem—helping leading-edge designers, like Derek, as well as brands and retailers, market to a new audience."
Derek Lam won the CFDA Perry Ellis-Swarovski Award for Emerging Talent in Womenswear in 2005, the Vogue/CFDA Fashion Fund Prize in 2005 and the CFDA Accessory Designer of the Year Award in 2007. He launched his label in 2003 and was named creative director of Tods in 2006. Celebrity clientele includes Kate Hudson, Jessica Alba, Leighton Meester, Rachel Bilson, Kate Bosworth and Anne Hathaway.
This is just another high-low fashion collaboration that has us excited! We can't wait to see the looks in the final collection. Will you be buying?
Buy Derek Lam clothes and handbags at shopbop.com
, at 6pm
, www.endless.com
and Saks Fifth Avenue
.