I was very excited as I headed into New Jersey last month for my skincare appointment at the Peer Group for Plastic Surgery in Florham Park, New Jersey. I was on a quest to learn first-hand about medical facials. Up until now, I had only enjoyed spa facials and this was my first visit to a medical facility for beauty treatments. The office looked very inviting and upon arriving, I met my aesthetician Judie. She was really welcoming and very knowledgeable about skincare. I immediately realized one big advantage to visiting a medical facility for skincare-you will get personalized treatment that will leave your skin looking its personal best. Spa facials are nice and relaxing, but they are fairly predictable and not so in-depth at addressing your skins' needs. Right from the start of my skincare appointment with Judie, the consultation and treatments were personalized to my skin.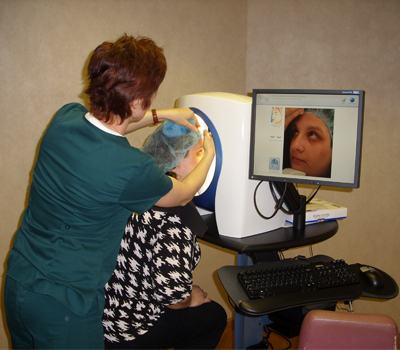 The first step was a question and answer about my skin and my general health. Then we entered another room and I was introduced to the Visia Complexion Analysis System. This was very enlightening for me, as it is a computer-controlled machine which scans your face and gives you an instant analysis of its condition. Using multi-spectral imaging, the Visia analyzes key areas including surface spots, UV spots, brown spots, red areas, wrinkles, texture, pores and porphyrins (bacteria). I was given a printout of my analysis and Judie went over what the results meant. All in all, I think the Visia showed that I am taking good care of my skin; however, I was able to see issues below the surface that I could work on improving through skin care.
After cleaning my face, which I must say was quite relaxing, Judie recommended microplaning for my skin. It entails using a scalpel to scrape the skin, removing the dead top layer. I was excited to try this process, as I'd never heard of it before. Judie prepped my face and then got to work, and let me just say, this was so relaxing and calming, I almost fell asleep. It was very gentle scraping and I did not feel anything painful, it was very comfortable. After the procedure, my skin looked visibly more even-toned. Dark under eye circles were noticeably lighter. And my skin felt as soft as a newborn baby.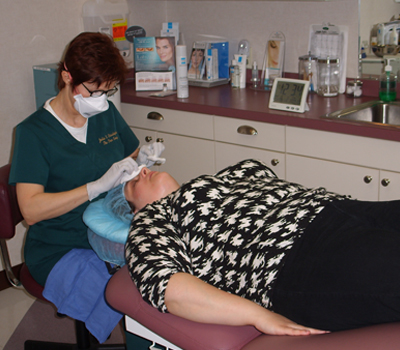 After my skin care appointment, I met with one of the plastic surgeons for a question and answer session. I had never been to a plastic surgery office and wouldn't have thought to seek out medically-supervised skin care. I now see that it is amazing and I urge you to give it a try as well. It was as relaxing as a spa treatment, but really aimed at working on the skin to heal damage and address issues on an ongoing basis. I was very impressed with this appointment, and with the Peer Group. Stay tuned for a recap of my interview with Dr. Francisco Colon.