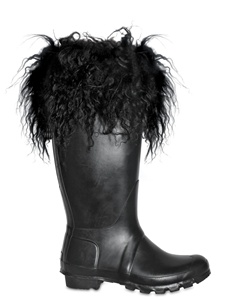 A Few Goody Gumdrops is sporting her latest must-have Hairy Hunter Rainboots this Spring!
Being High Maintenance, not Bitchy has got you covered head to toe for spring care of National Jean Company & Fantasy Jewelry Box!
Couture In City super hot trend for spring cork soled platforms!
Fashion Cents helps you transition from winter to spring like a pro.
Want sleeker hair to pair with your new springy ensembles? Fashion Fille can help- enter to win a ceramic hair iron here!
Handbag du Jour loves the Miu Miu Bird suede and python clutch: haute off the spring runway.
Shopping and Info loves the lavender lilac purple trend for bags, shoes, and dresses this season from YSL and Tory Burch.
SomeoneSpoilMe.com has ideas for Spring Birthday Party Favors !
Style Eyes finds a great way to make outfits in her favourite spring trend in her post pattern mixing from the feet up
StyleMaven shares the luxe alternative to the Liberty of London Target collection, have you heard of the 10 Corso Como for Liberty of London Collection?
The Well-Heeled Society is putting the rainbow before the storm in a season that's raining trench coats!
TheFind loves the new spring trend for skinny cargo pants, especially J Brand's Houlihan Cargo Pants – they look great on Khloe Kardashian too!
What's Haute is looking forward to Spa Week, April 12-18!
Photo via A Few Goody Gumdrops