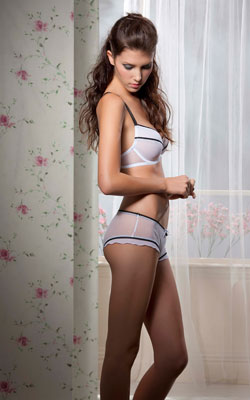 Have you been keeping up with your New Year's resolutions? We all tend to make the commitments to lose weight, exercise more, and drop the bad habits. For 2010, how about a resolution to feel more beautiful, to toss your worn-out sensible undergarments and go all-out sexy?
Affinitas Intimates makes affordable, gorgeous lingerie that is well-made, sexy and most of all, comfortable. I had the privilege of trying out the Natalie bra and panty set, and I must say, it really boosted my confidence knowing that even though I was in my everyday attire, I had this really sexy lingerie on underneath. The Natalie set is true-to-size, well-constructed with impeccable detailing, such as contrast trim, bows with dangling charms, and lightweight yet supportive materials. Spring 2010 is the perfect time to upgrade your underwear wardrobe because Affinitas has a fresh, new line that incorporates fresh florals, vintage satin and lace, an all-white bridal line, as well as familiar styles in bright, vibrant colors. Whether you need bras, panties, camisoles, bustiers or babydolls, Affinitas Intimates has both everyday pieces, as well as special occasion lingerie, all at prices to fit your budget. And don't let the prices fool you, all the pieces in the collection are made of high-quality materials, such as satin, lace, cotton, and even a technologically advanced seamless fabric.
I totally love a bunch of the collections, including the Samantha, which is ultra sexy and racy, but don't take my word for it, view for yourself at Affinitas Intimates. The lingerie is available in stores or online, and you can locate a retailer in your area here.
Affinitas Intimates can help make 2010 your sexiest year ever! Start your lingerie makeover today.