Mark your calendars: word has it design wonder Zac Posen recently announced he'll be the next to do a line for Target. We recently got all excited when we told you about his lower-priced line, Z Spoke by Zac Posen, and now Target too? We are so loving all of these high-end designers doing clothes for the masses (at prices for the masses). Look out for it on April 25, 2010 (runs through May 30). Prices are rumored to start at $15. Yes!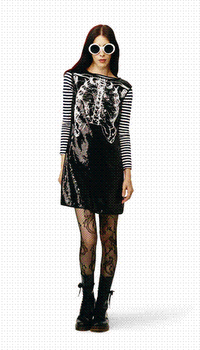 While we wait for Zac at Target, get ready to shop the Rodarte for Target line (in stores December 20). The piece we're craving is the sequin ribcage dress ($49.99). How can you NOT love it? Check out a sneak peek of the rest of the Rodarte for Target collection here.
And if you're in NYC and don't feel like hopping a train to the 'burbs to shop for holiday gifts at Target, don't fret! Target To-Go, a three-day pop-up shop, is opening December 11. It's a walk-up holiday shopping event and will stock the hottest mix of 50 holiday gifts – from fashion, beauty, toys to electronics and includes five pieces from the Rodarte collaboration! Walk up and pick up your gifts, already wrapped and ready To-Go!
Target To-Go will be open three days only, from Friday, December 11 through Sunday, December 13, from 10 a.m. to 8 p.m. daily, at Gansevoort and Washington Streets, at the High Line entrance.
At the opening on December 11, Target will present families in need, chosen by The Salvation Army, with a $100 Target GiftCard for a head start on their holiday shopping.