UPDATE: Rent the Runway is currently INVITATION-ONLY. In order to join, please email me at editor (at) whatshaute (dot) com.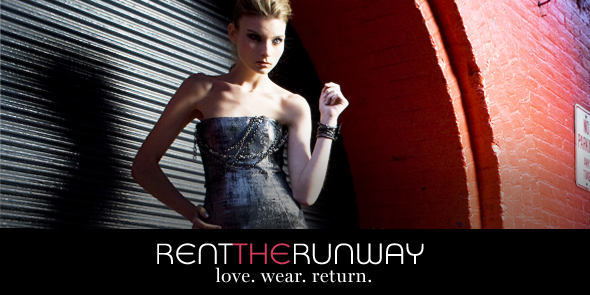 Anyone who knows me well knows that I am a fickle shopper. 'Buy today, return tomorrow' has long been my motto. Not everything of course – I do like to keep my closet well-stocked. But I like to buy something, try it on at home, test it out with a few accessories and see if it 'works'. If not, it's going right back to the store. But with more and more stores adopting a "No refunds" policy, what's a girl to do?
Enter Rent the Runway. Dubbed the 'Netflix of Haute Couture', this new site brings high-end fashions to the masses. But not in a lower-priced, mass-produced kind of way. No, these are the actual runway pieces so you can wear what celebrities wear, at about one-tenth of the cost. You can rent dresses and exclusive runway pieces from fashion designers like Diane Von Furstenberg, Hervé Léger, Proenza Schouler and Christian Siriano. Siriano's ready-to-wear pieces traditionally go for up to $3,000, but on Rent the Runway, you can get pieces from his line for $150 to $200.
Other perks include:
A reservation system to ensure that you can get a specific dress for the night you need it.
On-call stylists
Returns within 24 hours of rental, for any reason
A second style of dress as a backup, for an additional $25
A custom garment bag and fit kit including double-sided tape, bra strap adjusters and deodorant stain removers
Are you ready to Rent the Runway? "Love. Wear. Return." Now that's a motto we can shop with.