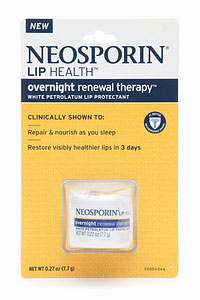 As the weather is getting colder, your lips are getting dryer! This is the time when we are all plagued with dry, cracking, chapped lips. I received samples of some new Neosporin Lip Health products and couldn't wait to give them a try. What better time to pamper your lips than when winter is approaching?
I started using both the Neosporin Lip Health Overnight Renewal Therapy
and Neosporin Lip Health Daily Hydration Therapy with SPF 20
. Each night before bed, I slathered my lips with the Overnight Renewal Therapy. It goes on as a sheer white creamy layer of moisture. It is not sticky, contains no parabens, preservatives or artificial flavors, and is packed with vitamins, emollients, and a blend of antioxidant and lipids. A little goes a long way, and I found that since I've been using the lip therapy overnight I have not suffered from dry, cracked lips at all. This product is even clinically proven to restore healthy lips in 3 nights! 
To maintain my newfound healthy lips, I started using the Daily Hydration Therapy with SPF 20. With all the same benefits and healthy ingredients as the overnight formula, this glycerin-based lip moisturizer was light and left my lips with a nice shine. They were not at all sticky, and if I used it under my lip gloss and lipstick it worked wonderfully to prolong my lip color.
Portable, affordable, and from a trusted brand! Oh, and it works! You can't go wrong with the new Neosporin Lip Health products. Grab a coupon at Neosporin's website and then pick some up at any local drug store.