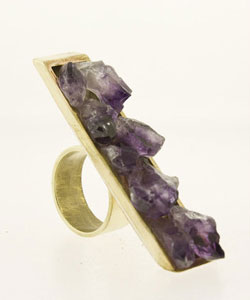 When it comes to jewelry, sometimes we like it rough. Smooth, polished stones are nice, but rough cut gems gives us that little extra edge. The handmade pieces from Ken and Dana Design satisfy our needs.
For their 'Graffiti' series, they explored New York's street art and were drawn to the significance of what was written on as much as the writing itself, and the relationship between the art and New York's buildings became the inspiration for their "geometry" series.
Though the Geometric Brass Cube ring and Natural Rough Pyrite ring first caught our keen art eye, the Street-inspired Natural Rough Amethyst ring is our personal fave. Equal parts rough and romantic, this purple hued gemstone is pretty despite it's natural state, but the two-finger style adds a slight bit of a of 'downtown' feel.
Cause it's rough in these parts.
$345, Ken and Dana Design