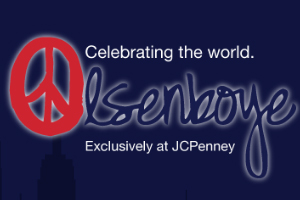 Just last week, the Olsen twins became members of the Council of Fashion Designers of America (CFDA) for their luxury brand, The Row and their contemporary line, Elizabeth & James.
Now, According to Women's Wear Daily, Mary-Kate and Ashley Olsen are launching Olsenboye, a junior brand concept that they presented to, and will be exclusive to J.C. Penney. Olsenboye, the Olsens' ancestral name, will hit 600 Penney stores in February and the pieces retail between $20 and $50. The collection will include denim, pants, tops, dresses, skirts, shorts, jackets, handbags and shoes.
Promotion for the line begins today, with an Olsenboye truck going around New York selling merchandise and giving out cupcakes, balloons and pins, while 50 high-profile Penney stores will have empty racks covered in Olsenboye shrouds. And starting November 6, Olsenboye will be available for a limited time on jcp.com and in those same 50 stores, including the Manhattan flagship store.
Ashley Olsen said: "Mary-Kate and I watch current trends and see our partnership with J.C. Penney as an opportunity to add something unique to the marketplace, especially in the current retail climate,". "Olsenboye is an extension of the Dualstar brand and we feel this collaboration complements and strengthens our business portfolio, delivering trend-based fashion at affordable prices."
Recent contemporary designer launches and collaborations with J.C. Penney included Bisou Bisou by Michelle Bohbot, I [Heart] Ronson, Allen B., Oxford & Regent and Twelfth of Eleven.