It was a nice warm evening on October 20th, and I was excited as I made my way into New York City's Equinox Spa on Second Avenue. I had been invited to a Celebrity Spa Party featuring Ramona Singer's Tru Renewal skin care line. After getting hooked on Tru Renewal's Ultra Repair Cream, I was eager to see the rest of the skin care line. Not to mention, I was looking forward to meeting Ramona.
I was greeted at the Spa by the very friendly staff and then was introduced to Ramona. She was so delightful, a truly wonderful host with a great enthusiasm for her products. The skin care was available for people to sample, the room was packed with a great energy, and I was happy to see that the other housewives from The Real Housewives of New York were there to support Ramona's event. Facials and massages featuring Tru Renewal products were available, with a portion of the proceeds benefitting breast cancer survivors. Ramona made my night, by treating me to a luxurious massage. I was so pleased to learn from the massage therapist that Equinox Spa would be carrying the Tru Renewal skin care line for sale, as well as incorporating it into their spa treatments.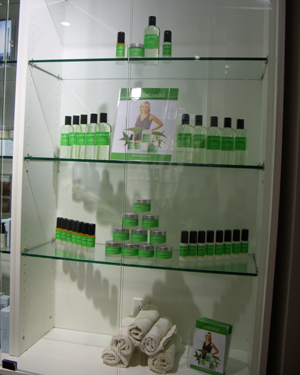 After I was thoroughly relaxed from my massage, I took a look at the entire skin care line and was really impressed with all the products. If you are looking for natural skin care, look no further. Tru Renewal skin care is packed full of all-natural ingredients including liquid oxygen, vitamins, algae extracts, and purified water. One of the best features is that it is good for all skin types, especially sensitive skin.
The party was a hit with plenty of appetizers, drinks, goody bags featuring Tru Renewal ultra repair cream, and of course the wonderful facials and massages which allowed guests to sample the products first-hand. I walked away refreshed and even more excited about the skin care line. If you are in the New York City area, I'd recommend a trip to Equinox Spa at 1429 2nd Avenue (between 74th and 75th St) to give the products a try for yourself. They are also available online at RamonaSinger.com.