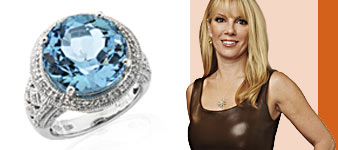 If you follow my beauty reviews, you'll recall I recently raved about Ramona Singer of the Real Housewives of New York, and her amazing new skincare line. Well, I'm very excited to let you know all about her gorgeous collection of art deco, estate-inspired jewelry
Ramona is a graduate of FIT with a very extensive background in fashion. Taking influences from her own collection of estate pieces, Ramona has designed a gorgeous collection of earrings, pendants, bracelets, and rings. The pieces are exquisitely detailed in rhodium-plated sterling silver, and are set with various precious and semi-precious stones. In designing her pieces, Ramona wanted to offer affordable, timeless pieces that can be passed down to future generations.
In designing this jewelry line, Ramona really went all-out on the details. Rhodium-plating keeps the jewelry looking brand new, and the pieces are finished very beautifully with intricate details that you don't see very often in affordable jewelry.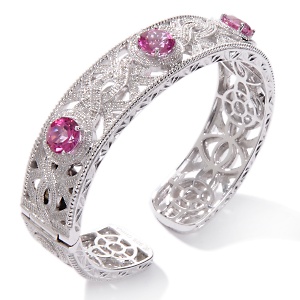 Most pieces average between $200-$500. My personal favorite is the pink topaz and diamond cuff bracelet, which Ramona said was inspired by her own estate piece.
The line is exclusive to Home Shopping Network and Ramona and her gorgeous jewelry will be featured on HSN on September 14th at 10pm EST, and September 13th at 11pm PST. I will definitely be watching, and I hope you will check it out as well. If you can't wait (like me), head over to HSN.com and start shopping for Ramona's gorgeous jewelry right now!