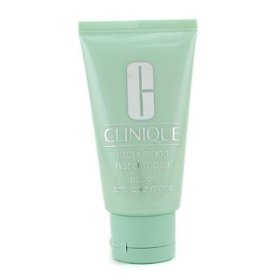 I am so hard on my hands, and I am paranoid it'll start to show! I started looking for a good hand cream, as it's not something I've routinely used. I wanted to add it to my daily beauty routine. First, I decided to try a department store brand, so I went to Clinique. They have a great lightweight, soft-as-silk cream called Stop Signs Hand Repair
. This cream is a joy to use, I find myself grabbing for it several times throughout the day. It is non-greasy, yet luxurious. It combats dryness while working to fight the signs of aging. It contains collagen to fight crepiness, which is a common complaint as women get older. I think this is a great cream to keep in your purse and use throughout the day. It comes in a convenient grab-and-go tube that doesn't leak. Buy from Clinique for under $20.
I then decided to give Burt's Bees a try. I love that their products are mainly all-natural, as well as super affordable. I decided to try Burt's Bees Hand Repair cream
, which is 98% natural and contains cocoa butter, sesame oil, and botanical butters. It works to protect the hands from the elements and rehydrates chapped skin.  I found this cream to be a little greasy. It smelled very herbal and it did take some time for it to soak into the skin. What I ended up doing was using this cream at night, with a pair of soft cotton gloves over my hands. Let me just say, this cream worked wonders as a night cream on the hands! The smell may be a little woodsy, but the results are fab, and you can grab this cream for less than $15 online at Amazon.com or Walgreens.com.
As a makeup lover, I never really think of my hands as needing any TLC, but I must say that once you do start treating your hands with products aimed at protecting and healing them, the results are great. Make hand-care a part of your routine too!