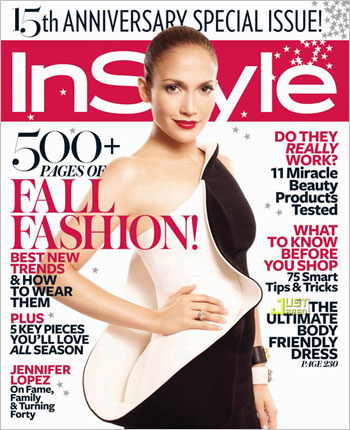 Did you know that InStyle magazine is celebrating its 15th anniversary? (Yes, I feel old now too!) One of the ways they are celebrating is with InStyle 15 For Fall – an offering of shopping finds and special deals from 27 fabulous fall collections. You can shop from a selection of 15 items cherry-picked by Instyle editors, as well as a larger selection of bags, clothes, shoes & boots, jewelry & watches, beauty & fragrance, home, haircare, and intimates. And to sweeten the celebration, InStyle is giving away 4 $1,000 shopping sprees throughout the month of September! There is also an 15 For Fall iPhone application where you can track all this shopping information.
-Enter for a chance to win a $1,000 shopping spree.
-Click here for the iPhone app link to browse and shop the best of the season anytime!
-Many 15 For Fall sponsors are offering exclusive discounts and offers for InStyle readers. Check out some of the special offers below, and check out all the special offers here.
ANN TAYLOR
In a nod to Ann Taylor's heritage, their new design team has put a fresh spin on this iconic brand with the new Fall 2009 Modern Legacy collection. Designed for the modern woman with an eye on what's chic and sophisticated now, this new definition of feminine mixes luxurious fabrics, impeccable tailoring, new fits and unexpected details into a collection that captures the joie de vivre of the New Ann.
Special offer:
Shop our latest collection for all of your fall favorites from 9/8/09-9/20/09 and receive a $15 Rewards Card for every $100 you spend. ($15 card redeemable 9/28/09 – 10/12/09 on full-priced purchase only)
AVEDA
A-Veda means "all-knowledge" in Sanskrit. Its roots are planted in Ayurveda, the ancient healing art of India and other Indigenous wisdoms that take a holistic approach to life and wellness, with a focus on cultivating balance. The goal? To create botanically based products with high performance that are safe for the user as well as for the planet.
Special offer:
Receive a complimentary 3-piece sample pack of Smooth Solution hair products at participating Aveda locations. 800.937.4175 or Aveda.com/offer.
COLDWATER CREEK
Nothing makes you feel as beautiful as wearing something that lets you express your individuality. Is tailored to fit like a dream. And makes you look like a million bucks. All on a considerably tinier budget.
In this collection, looking fabulous is as simple as short-over-long layering: think cropped-sleeve sweaters and textured jackets that find brand-new ways to play with proportion. Feminine menswear, where tweeds and herringbones are re-imagined in supple, forgiving knits. Plus, scarves and wraps pull everything together in surprising ways. This is fall at Coldwater Creek.
Special offer:
Save 15% off your merchandise purchase! Simply show this page at your local Coldwater Creek store or enter code NKA7230 at coldwatercreek.com. Certain restrictions apply.
INSTYLE.COM EDITORIAL (iPhone/website only)
Cozy knits and little leather jackets. Shoes that transform your legs and bags that double as jewelry. Inspiration from nature, our First Lady and the '80s. From head-to-toe to your home, we've hand picked the 15 must-have fashion, beauty and home décor items that will have you living stylishly every day this fall.
EXPRESS
Chic, modern and glamorous, the top 15 from Express celebrate slim silhouettes and the sexiest fits! From the ultimate in luxe to the best-fitting jeans, the Express fall season features one-of-a-kind styles in everything from embellished to bold to oh-so-sexy. Shop this season's newest arrivals and warm up to your favorite fall details.
Special offer:
Text to Save $15 off your next $30 purchase. Text EXPSTYLE to 54989.
Sign up to receive text alerts with exclusive mobile offers and all that's new, now and next from Express! Text EXPSTYLE to 54989 between 8/1/09 and 9/30/09 and you'll also receive $15 off your next $30 Express purchase! Standard messaging rates apply. To later opt out: text STOPEXP to 54989.
JIMMY CHOO (iPhone/website only)
The Autumn/Winter 09 Collection is inspired by the punk rock of the 80's- featuring studs, rivets, mesh and glossy snakeskin. Rebel energy courses throughout the collection with each design making a distinct statement.
Animal prints, a punk staple, appear in a riot of clashing guises: pony, tiger and zebra colored in vibrant blue, screaming pinks and yellows and classic black and white.
'The collection injects the raw individuality of rock starlet and siren, with graphic styling and clashing colors gesturing a modern, bold Jimmy Choo identity.' Tamara Mellon, Founder and President, Jimmy Choo.
Making its debut this season is the Blythe tote in textured calf perfectly combined with the Jazz shoe in pink leopard. Also being introduced is the Odette bag in deep blue leopard print adorned with bold straps and flat silver rings. The explosive energy of punk is captured when paired with its partner shoe Karina in striking fishnet.
The collection feels like one that has many wild nights to come. Items shown are available at Jimmy Choo boutiques. For more information please call 1.866.JCHOO.US or visit www.jimmychoo.com.
Special offer:
From August 21 to September 30, mention promotional code "15FF" and receive free shipping on orders placed via 1.866.JCHOO.US .
KARASTAN
Lush textures, sophisticated color palettes and innovative designs combine with a wide range of styles ranging from beautifully traditional to boldly contemporary to create the ultimate backdrop for your home. Forward-thinking design and imaginative color stories vividly demonstrate why Karastan remains, after 80 years, one of America's premier manufacturers of masterfully crafted floor coverings.
Special offer:
In celebration of InStyle's 15 for Fall campaign, Karastan is offering InStyle readers a $100 cash rebate on a minimum $699 rug purchase. Please visit www.karastan.com/15forFall for additional details, and to download the rebate form.
SHISEIDO
For more than 137 years, Shiseido has pioneered customized skincare solutions, combining the best of eastern and western technologies and aesthetics to produce cosmetic products of the highest standards. This fall, Dick Page, Artistic Director for Shiseido Makeup, launches his second global color collection with Shiseido. Recognized as a true makeup visionary, Page is celebrated as the "ultimate beauty insider" and is often the lead makeup artist for fashion week's most exclusive runway shows such as Michael Kors, Narciso Rodriguez Alexander Wang, and Zero + Maria Cornejo.
Special Offer
Visit the Shiseido counter at your nearest Nordstrom for a complimentary Shiseido Signature Facial Service or Makeup Application. For more information and to find a Nordstrom near you visit sca.shiseido.com.
SMASHBOX
Smashbox: The Inside Story
Long before Smashbox Cosmetics was created, its founders, Dean and Davis Factor, were becoming legends as the ambassadors of style in Los Angeles. It began when the two brothers, the great-grandsons of makeup legend Max Factor, combined their talent and heritage to create Smashbox Photo Studios in 1991. With a slew of starlets passing through the Studios daily, Dean and Davis were frequently asked to create a makeup line that met the demanding needs of a photo shoot (hot lights, long days) but still looked natural on the skin for everyday wear. The result? Smashbox Cosmetics, which they launched in 1996 and has been a cult-favorite of makeup artists, celebrities, models and everyday women ever since.
Special offer:
Shop the hottest Smashbox must-haves for fall and get a free deluxe sample of Photo Finish Primer Light* at Sephora stores or at Sephora.com while supplies last.
XOXO
Work, party, play in your XOXO wardrobe! Have fun mixing and matching XOXO's versatile styles to fit your well-rounded lifestyle—they take you from a day at the office to a night on the town! Through plaids, rustic colors and a pop of animal print this collection has something to fit every occasion.
Special offer:
Leopard Print Trench
15% off this item, Final Price, $67.15 (Reg. $79)
Printed Dress with Embroidered Waist,
15% off this item, Final Price, $58.65 (Reg. $69)
YVES SAINT LAURENT
In the Fall/Winter collection for Yves Saint Laurent, Stefano Pilati incorporates the ingredients of essential chic in a signature expression of tailoring and technique. Garments in black leather, white cotton poplin and grey flannel define a system of dressing while accessories in colored crocodile, stingray and peccary suede punctuate the look.
Special offer:
Complimentary ground shipping.
*This offer is ONLY good on YSL.com and will not apply to any purchases in our YSL boutiques or on our wholesale partners websites.
ZAPPOS.COM
Start a fashion revolution with Zappos.com this fall! Find one unique item that balances perfection and grace with edginess and flair: a top with a pop of color (think reds, blues, purples, and greens), an embellished pair of boots or heels, a dress with warm hues, a stunning metallic or print handbag, a sleek pair of skinny jeans, or a dazzling accessory. Bring in neutrals with greys, browns, whites, off-whites, golds, and lots of black! Keep the revolution alive with studs and metal details, sky-high platforms, and neck-line embellishments! Zappos .com has something for every budget, so Viva la Revolution!
Special offer:
At Zappos.com, you'll always be treated like the wonderful, lovable, huggable, fashionable YOU that you are! With free shipping and return shipping, a 365-day, hassle-free return policy, and a fabulous customer loyalty team, Zappos makes sure that your customer experience reaches rock star proportions! Whether you choose from one of these 15 items or from one of our other 167,688 styles, Zappos will always deliver happiness right to your front door step!