UPDATE (8/7/09): The winner is Jenny S. from Kitchener, ON. Congrats to Jenny and thanks to all who entered! Stay tuned to What's Haute Magazine for more awesome contests and giveaways!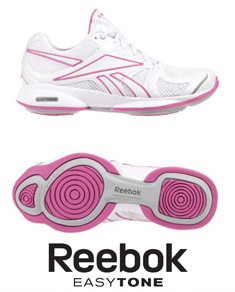 Several weeks ago I introduced you to the Reebok EasyTone sneaker. This shoe features a remarkable pillow-soft sole which makes walking and exercising feel like a breeze! I've been testing the sneaker for several weeks and it is the most comfortable sneaker I've worn. Ever. I've gone running in my EasyTone's and they glide easily across a track, as well as on the rough road. Though the shoe was designed with balance pods to create a "natural instability", I've felt even more balanced doing cardio workouts in them. And my legs, butt and thighs have toned up a great deal since using these kicks. Not a coincidence, I tell you.
Want to try them out yourself? Leave a comment below to be entered to win a pair of Reebok EasyTone sneakers for yourself!