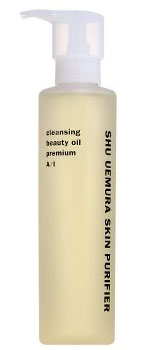 I recently received a sample of Shu Uemura's Premium Cleansing Beauty Oil
. Prior to that, I was unaware of the usage of oil as a cleanser. I can't lie, the thought doesn't sound right to me. I think I'm more worried about washing away the oil than adding more onto my face.
It took me a few weeks to get up the nerve to use this cleansing oil. I was unsure how to even use it, so I took a look at Shu Uemura's website and read about the history of this product. It was nice to learn that mineral oil, the basis of this cleanser, has healing and soothing properties, as well as being great for sensitive skin.
Oil is a great deep cleanser, capable of breaking down sebum, impurities, as well as hard-to-remove makeup. And skin's natural lipids are preserved when cleansing with oil. At this point, I couldn't see a negative, so I gave the cleansing oil a try. My face felt squeaky clean, while at the same time moisturized and balanced. I think if your skin is on the normal to dry side this cleanser would be perfect for you.
Don't be afraid to clean your face with an oil-based cleanser. Give it a try. I think you'll be as pleasantly surprised as I was. You can purchase Shu Uemura Cleansing Oil from Sephora
, directly from the Shu Uemura website or at most major department stores that sell the brand.