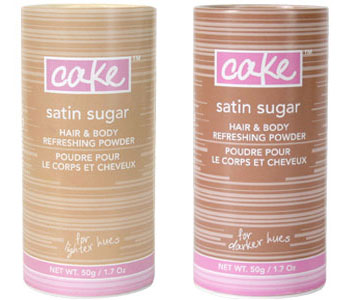 As modern women, we have to juggle work, relationships, children, shopping, giving, hosting…you get the hint. With all the things on our plates, who has time for the little luxuries?
So washing your hair may not seem like a little luxury but for me, it takes 2.5+ hours, to wash, dry and style my hair, from start to finish. So you can see how that might cut into my crazy busy modern woman schedule. That's why I seek out spectacular little shortcuts, like the Cake Satin Sugar Hair & Body Refreshing Powder
.
It's a light, cocoa-colored (for darker hues; creamy-colored for lighter hues), lemon-scented powder designed to refresh your hair, absorbing excess oil along the way. Infused with calendula and chamomile, the powder smooths and softens hair, and can even be used on your body!
Fresh, fabulous and fuss-free? Perfect for moving some things off my full plate and making room – for cake!
$18, Manhattanite