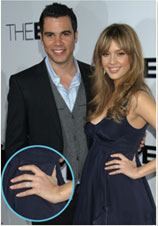 With awards season in full swing, it's time for celebrities to bring out the bling! And with Valentine's Day quickly approaching, it's time to start thinking of gift ideas. Diamonds may be a girls' (and guy's) best friend but diamonds set in platinum shine like the stars. But you don't need to be a star to sport your own platinum baubles. Platinum has long been a status symbol – think platinum records, platinum awards, and of course, platinum jewelry. I personally love it because of its color, purity and durability. It's naturally white like silver and white gold but its luster is much more brilliant. Platinum is typically 95% pure so it never fades or tarnishes like silver. And it is resistant to wear so even if your platinum jewels get scratched, you won't lose much of the metal. The best part is it's rarity – its actually 30 times more rare than gold, which adds to its exclusive and distinctive allure. If you're thinking about a gift that can't be matched, or just want to treat yourself to something special, think platinum! 
 
For more on platinum, check out the following resources:
Wedding Channel
Precious Platinum
W Magazine
This has been a What's Haute sponsored post.