Don't get me wrong, I love a gladiator. I wish I had one that worked.
I spent $650 on these Giuseppe Zanotti Women's Gladiator Sandal
last year and they just never worked. They always made me feel like Big Foot when I put them on, Maybe its the size 9 I sport, or the skinny ankle/wide foot ratio I was born with.
But a gladiator with a high heel, like the Sergio Rossi Momo Bis Painted Python Gladiator Sandal
– that's a different story. Now we're talking sexy and tough, edgy and dangerous. Put these on and you will attract some very expensive attention.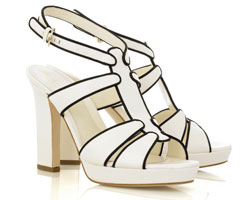 In my dreams I am the woman who wears these Sergio Rossi Monochrome platform sandals
with a short chiffon dress and a very important handbag to a very important job. These are for the few people left in the world who haven't been bamboozled by Bernie. They won't be buying them. Expensive shoes are going to be sitting on the shelves until sale breaks earlier than usual this year.
So I'm settling for these Dolce Vita Atlas Stud Banded Thong Slides
. They're tough and sweet and the color is different than the usual black/silver/gold gladiators I'm sick of. I'm buying these for the girl who got her 'a$$ kicked'.
While I search Craigslist and hope that my horoscope is correct and things will change, these sandals seem sane.