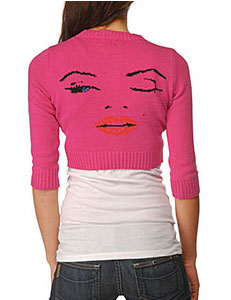 Love to flirt but feeling a little shy? Let this cardigan do the talking for you.
The Wink Intarsia Cardigan by Betsey Johnson is a tongue-in-cheek take on the everyday sweater. A bubblegum pink acrylic/cotton blend cardigan boasts sass with a Marilyn Monroe-inspired face on the back, with one eye winking back at those potential suitors staring at you.
And you didn't even have to bat an eye.
$225, Betsey Johnson