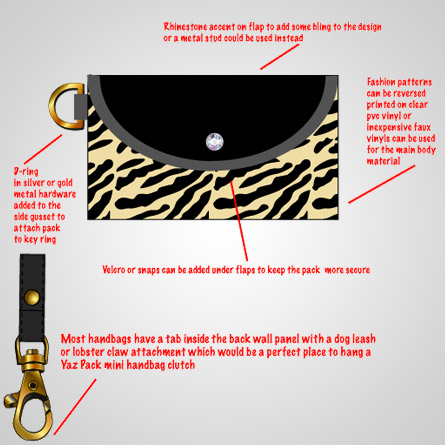 A few months back, we announced the YAZ Pill Pack Design contest hosted by Nina Garcia, judge of the Emmy-nominated series Project Runway, in partnership with Step Up Women's Network, a nonprofit charitable organization dedicated to mentoring and empowering young women for advancement, and Bayer HealthCare Pharmaceuticals. Many entered but there could only be one winner. Garcia named aspiring handbag designer Elayne Mayes of Green Village, New Jersey, the winner of the YAZ Pill Pack Design contest. Garcia stated:
"What's so great about this Yaz Pill Pack is that its not only edgy, but fashion-forward, it's functional and discreet. The case is small enough to fit into any purse, and with its chic design and studded closure, you won't really want to hide it, you'll actually want to show it off."
Mayes $10,000 prize will be used for her fashion design career, and her winning design (pictured) will be available in limited edition in 2009 online at YAZ-US.com. A portion of the proceeds will be donated to the Step Up Women's Network.
Click here to see the other 9 finalists. Watch the video below to hear Nina Garcia talk more about the winning design: