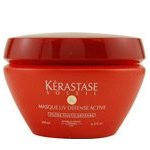 As we near the end of summer, many of us are experiencing the damaging effects of the sun on our hair. By mid-August, most women find that dry, lackluster hair has become all too common. Kerastase Paris is here to save the day with their luxurious Kerastase UV Defense Active Replenishing After-Sun Treatment Masque
for Sun-Exposed Hair. I recently received this product to try, and I am thoroughly impressed with it!
What better time to try this masque then after a long day at the pool? After shampooing, I toweled off my hair and then generously slathered the aromatic gel masque into my hair. This masque is a great treat for your hair; it smells like a spa treatment, and has a great gel texture and silky feel to it. It was very easy to comb through, and after leaving it on for 5 minutes, my hair felt like butter upon rinsing. It gave my hair a much-needed refreshing, and with the photo defense filter and cationic derivative, it is designed to deeply replenish and strengthen sun-damaged hair. You will notice an almost immediate difference once your hair is dry. Hair is shinier, softer, and your style will get a much-needed, end-of-summer boost.
A few uses per week during the summer months will keep your hair at its absolute best; and you can be assured it is working to strengthen and moisturize the hair. While it is best to wear a hat or stay out of the sun, we all know that sometimes the most fun is just letting your hair down and running along the beach. So don't fret ladies, Kerastase has got you (and your hair) covered!