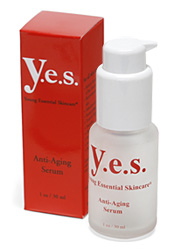 When choosing skincare, women of all ages are concerned with anti-aging products. Even young women in their early 20s are starting to incorporate anti-aging products into their face and body care routine. There are so many choices out there, it may seem confusing. It doesn't have to be!
I have been using Y.E.S. (Young Essential Skincare) Anti-Aging Serum for about a month now, and I am very impressed. I think this serum would be a great step to add to just about any skin care regimen you are currently using.
Just a few drops of Y.E.S. Anti-Aging Serum daily yields noticeable results in less than a month. It is loaded with a special CP24-Complex that initiates a complete penetration of the skin, greatly increasing cellular proliferation within 24 hours. What this means is that within just a few weeks, you will notice changes in your skin tone and texture.
Almost instantly I noticed my skin was smoother, tighter, and more radiant. The serum absorbs into your face relatively quickly, leaving skin exceptionally soft. It is a pleasure using the serum each day, especially on my forehead, where I tend to have fine lines.
This serum is so versatile that it is perfect for women of any age, and with a wide range of skin concerns. Whether you are dealing with acne, scars, dullness, age spots, wrinkles, lines, or skin sensitivities, Y.E.S. is for you! It works instantly to boost collagen, smooth, brighten and tone the skin, and it is anti-bacterial and anti-microbial. Y.E.S. provides instant hydration and is perfect for replenishing sun-aged skin. Now would be the perfect time to give Y.E.S. the chance to help you see your skin's full potential. Request your free sample and order here: http://yesskincare.com/anti-aging-serum.php.