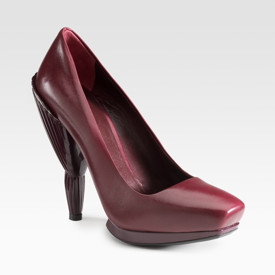 It seems designers got together and said, "What crazy things can we slap on shoes for these crazy ladies to buy at these utterly crazy prices? How about some flying buttresses, or some gargoyles? How about some knickknacks and doodads?" And I've been hating all of them. I just didn't get it.
Until I saw these Miu Miu Platform Pumps.
Now I understand. I've seen the light; Miu Miu's most delicious shade of berry with a sculpted resin heel that will translate into real life. Not too high, not too pointy, not too crazy. Just lovely.
$550, Saks Fifth Avenue