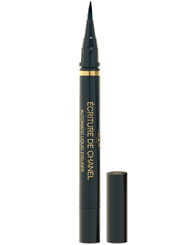 I happily admit to my obsession with beauty and cosmetics. From a young age, I loved experimenting with different looks. It's amazing how you can go from fresh-faced to glam with just a few swipes of a brush. I think that very notion is why I am so drawn to Chanel cosmetics. Every trip to a Chanel counter brings new excitement for what's in store.

My latest venture to the Chanel counter led me to try Ecriture de Chanel Automatic Liquid Eyeliner. Now, I usually don't delve into liquid eyeliner because I tend to think of it as difficult to use, and not as precise as pencil liner. However, I was intrigued by the click-to-dispense base that gives the user total control over the intensity of the line. By giving a little twist to the base, the liquid eyeliner is dispensed into the brush. The felt tip allows for precision lines that are almost effortless. The water-based liquid goes on as easily as a pencil liner, and dries quickly. I was thoroughly impressed with the look achieved. This is definitely a must-have for your make-up bag!

You can do a thin line for day and then a thicker, darker line for evening. You are in total control as to how much liquid eyeliner you want to dispense. This liner instantly finishes off your look and really makes your eyes stand out. If you've been looking for a versatile, day-into-night liquid eyeliner, this is the one to try. You can purchase it at any Chanel department store counter, or order online from Chanel.