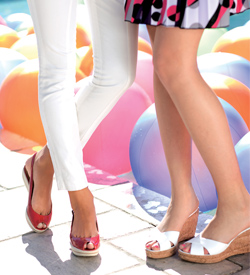 Spring and summer style is all about the accessories – bright bags, jazzy jewelry and oh-so-sexy shoes. A simple black dress or white tank and shorts is simply blah until you spice up the look with some haute footwear.
Whether you sport strappy sandals, fall for flip flops or stand tall in stilettos, Marshall's Shoe MegaShop has got your fashionable feet covered.
Literally.
This season, their shoe selection is hotter than ever. Gladiator sandals have made a comeback and are gracing the racks at Marshall's and the feet of women everywhere. Flip flops are just one of a girl's essentials – pick up some plastics and bright colors for the beach, or leather / jeweled thongs for everyday. For basics, try a pair of ballerina flats, in multiple colors. Strappy sandals and chunky heels are necessary with flirty dresses and nights out – they add length to the leg, giving you sex appeal and plenty of style.
You can get in on the shoe game at Marshall's. They've got a wide selection of designer shoes for every woman – hundreds to be exact – in a 5,00 square foot 'store within a store'. You can get everything from Versus by Versace stilettos to Chuck Taylor-style Coach sneakers. With something for everyone and unbelievable (and unbeatable!) prices, why not shop shoes at Marshall's?